Interview with Jovanka Ciares & Easy Meditation Tips [BIO Podcast: Ep 27]
In this episode, Tony and I talk about a topic that is very close to both our hearts. It's something I think is so powerful for all of us to learn about more and that is: meditation. We talk about how meditation has impacted our lives and some of the challenges we have faced as we set up our practice, as well as the many amazing benefits we feel. I also share some easy tips for beginners and how to get into a meditation practice.
Next, my very special guest is a wellness expert named Jovanka Ciares, a former entertainment executive turned wellness expert and author. Jovanka is from Puerto Rico, which, as many of you know, is a country very dear to my heart. I've written at least part of all the Beauty Detox books there. Jovanka is plant-based, and she appeared on a new series that premiered recently on ABC called "My Diet Is Better Than Yours," having offered a vegan diet.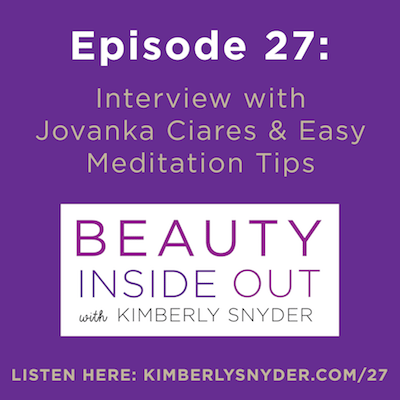 [BULLETS]
We share some easy tips for beginners on how you can get into meditation…
Tony describes how meditation has brought him a higher level of stress resilience…
We talk about how meditation has slowed the intensity of our reactions…
I talk about my personal guru, Paramahansa Yogananda, and how I practice the Kriya yoga technique…
We share a key element that you need to do to be successful…
Jovanka shares how the last 15-years have been a  journey for her to find health…
Behind the scenes info on ABC's "My Diet Is Better Than Yours"…
Jovanka and I speak about what it was like transitioning into a plant-based diet…
Jovanka shares that the production team on the show actually committed to going vegan during filming…
People are starving for knowledge, and you see it all the time. You can see the passion in their eyes…
We share stories about our love for PR as well as the luscious fruits and vegetables that grow there…
[FEATURED GUESTS]
About Jovanka Ciares
Jovanka Ciares is a former entertainment executive turned wellness expert and author. She is the creator of the Wellness Smackdown™, a proprietary detox and weight loss program and the Sexy Body Reset, an online weight loss program that focuses on cleansing, nutrient-rich vegan foods for natural weight loss.  She offers lectures, workshops and wellness coaching in both English and Spanish.
She has spent over 10 years studying and experimenting with alternative therapies, nutrition, herbalism and more. Jovanka has personally experienced the healing power of a holistic lifestyle and proper nutrition. Her journey towards self-healing, peace and happiness became her motivation to inspire and support others to do the same.
Jovanka is a featured expert at Whole Foods, Veria Living, Fox News LA, NPR and CBS Radio. She's also a regular contributor in Spanish-language media outlets like Telemundo and a contributing guest expert at The Huffington Post, MindBodyGreen, BlogHer and Positively Positive. Jovanka gave her first TEDx talk on "Rethinking Failure" in November 2013.
About Tony Flores, a long-time friend of Kimberly who, after graduating from Stanford University, began researching and writing professionally full-time. He has a passion for natural health, especially Beauty Detox, and loves to share exciting new studies and insights he learns with Kimberly and the community!
I LOVE HEARING FROM YOU! 🙂

There's lots of ways to share your responses or questions about the podcast:
Be sure to Subscribe to the Podcast, so you never miss an episode!

HOW TO SUBSCRIBE

You may be really intrigued by podcasts, but you may just know how to listen or subscribe. It's very easy, I promise! To listen to more than one episode, and to have it all in a handier way, on your phone or tablet, it's better to subscribe so you never miss an episode!

Want to know what to expect from other episodes of the podcast, when you listen to "Beauty Inside out with Kimberly Snyder"? I talk about my knowledge, philosophies and personal experiences on a variety of topics, including on health, beauty, nutrition, yoga, spirituality and fitness. Lively discussions and interviews are infused with helpful tips and takeaways. From interviews with today's top health, wellness and spirituality pioneers, authors, Ayurvedic and western doctors, artists and entrepreneurs to yoginis, spiritualists, and world-class vegan athletes, Beauty Inside Out is as informative as it is inspirational. My passion is to educate, inspire and empower YOU to become your most beautiful self from the inside out.
LEAVE A REVIEW ON ITUNES

Listeners really respect the views of other listeners, so your response helps people find good material they are interested in!
If you enjoyed the podcast, please tell your friends and give us a rating or review.  Many thanks in advance!
[RESOURCES / INFORMATION]
Meditation Segment:
Jovanka Ciares Interview:
Sending you love,
Kimberly