With GLORIOUS spring in the air (hooray!) and outdoor gatherings soon to emerge as part of our weekend rituals again, I thought it would be a good idea to share one of my favorite dips with you! When you are planning a picnic, it is fun to bring bright, beautiful and freshly cut veggies and with you and an assortment of dips that you and your friends can much on. 

This recipe is super easy to make and can practically be paired with anything! Add it to a crudité platter of your favorite selection of raw veggies including sliced celery, carrots, bell peppers, zucchini and cucumbers! (These are my faves- I'm not the biggest fan of raw broccoli or cauliflower, personally! ).

You may have seen the dip I am featuring today in The Beauty Detox Foods…it's my Raw Muhammara Dip!
I love sharing with you what I learn and experience from all of my travels around the world. This dip is inspired by my take on a traditional Middle Eastern dip. I ate something similar in Morocco and I think it's delicious, and many of my clients agree.
I keep this stocked in my fridge all the time as a go-to snack, as it's packed with vitamins, protein and antioxidants! Did you know you could also use this dip as a dressing on your favorite salad creation?
Traditionally the red peppers are roasted when making a dip like this, but because of the amazingly high content of vitamin C in red peppers, I wanted to conserve that and the rest of their nutrient content by keeping them raw.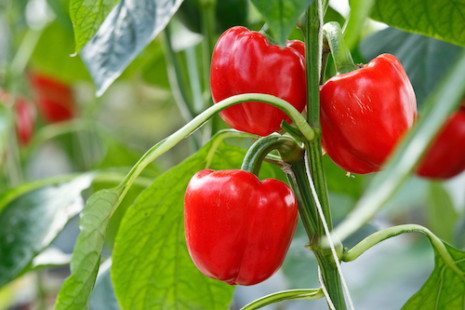 The walnuts are usually toasted, but I'm sure it doesn't surprise you that I'd rather keep them raw, too as I always say not to roast nuts! By keeping the ingredients as close to nature as possible, you're getting the full boat of amino acids, omega fats and vitamins, completely unadulterated.
Beauty Fun Fact: This dip is great for your skin! This recipe is geared towards your inner and outer beauty, packed with moisturizing raw plant fats and helping with repairing and defending against harsh elements and dryness. This dish is a win-win for your skin and your senses.
Let's get dipping! ;)
Raw Muhammara Dip
Ingredients
1.5

red bell peppers

save the leftover half for your next salad!

1/2

cup

walnuts

1

small clove garlic

1.5

Tbs.

nutritional yeast

1/2

tsp.

sea salt

2

tsp.

lemon juice

Pinch

of cayenne pepper

1/2

tsp.

cumin

1

Tbs.

olive oil
Instructions
Blend or process all the ingredients together in a blender or food processor until smooth. Use as a delicious dip with veggie sticks.
Happy Blending!
If you make it, don't forget to share with me on social with the hashtag, #beautydetoxrecipe so I can see your beautiful creations!
Lots of love,
Kimberly