Looking to switch up your lunch options and purge out any leftover stagnation from winter? My Middle Eastern Gluten-Free Wraps with Sun-Dried Tomato Pâté Recipe is not only loaded with astringent greens but has a delicious, pâté spread added to the mix.
Sun-Dried Tomatoes
Whether you're industrious and make your own or buy them at the store (preferably dried- see note in recipe), sun-dried tomatoes are packed with nutrients that contribute to our overall health and beauty…and are one of my favorite Beauty Detox foods.
One cup of sun-dried tomatoes has 8 grams of protein and 7 grams of fiber. The same serving size has 39 percent of the recommended daily intake of potassium (essential for muscle contraction and the transmission of nerve impulses), and 23 percent of the daily intake of thiamine and riboflavin, as well as 31 percent of niacin. You'll also receive 19 percent of the daily intake of vitamin K, which is necessary for blood clotting and regulates bone mineralization. That sure is a lot, in one little cup!
These B vitamins are essential for converting food to energy and help in maintaining the nervous system and keeping our skin healthy.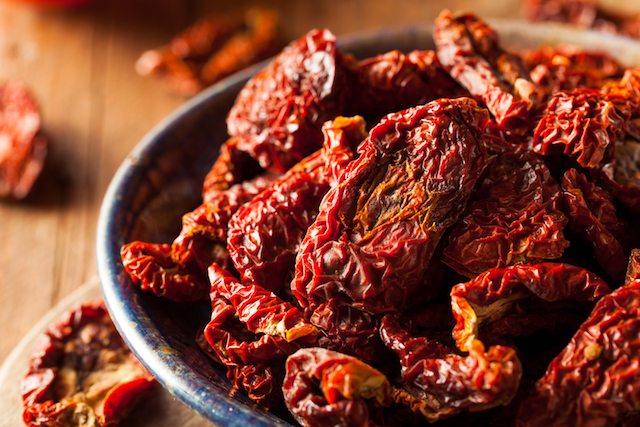 These red beauties also provide antioxidants that protect your health by neutralizing free radicals and lowering inflammation. You'll receive 23 percent of the recommended daily intake of vitamin C and 16 percent of vitamin A in a one cup serving. Remember, vitamin C supports the immune system and neutralizes free radicals throughout the body.
You can see why adding this Beauty food to my pâté was a no-brainer! ;)
Check out the full recipe below…
Middle Eastern Gluten-Free Wraps with Sun-Dried Tomato Pâté Recipe
Serves:
4 wraps, or about 1 cup of pâté
Ingredients
Wrap Ingredients:
½ cup diced tomatoes
½ cup julienned cucumbers
½ cup julienned carrots
¼ cup diced spring onions
2 tablespoons minced fresh parsley
1 tablespoon freshly squeezed lemon juice
1 medium clove garlic, peeled and minced
½ teaspoon ground cumin
¼ teaspoon sea salt (or to taste)
4 gluten-free tortillas (I prefer brown rice or teff, a gluten-free grain that is grown in Africa)
1 medium ripe Hass avocado, peeled, pit removed and cut into slices
½ cup arugula
Sun-dried Tomato Pâté Ingredients:
1 cup sun-dried tomatoes (use dried, rehydrating them in warm water for 30 minutes; avoid those packed in oil)
¼ cup filtered water (or a bit more)
¼ cup diced Kalamata olives
1 tablespoon freshly squeezed lemon juice
2 teaspoons olive oil
½ teaspoon smoked paprika
Instructions
Prepare the veggie mixture for the wraps. Toss together the tomatoes, cucumbers, carrots, onions, parsley, lemon juice, garlic, cumin and sea salt in a medium bowl. Set aside.
Prepare the pâté. Combine all the pâté ingredients in a food processor and blend well. Adding a bit more water during the process to keep the mixture going, if necessary. Set aside.
Assemble the wraps. Arrange a tortilla on an individual plate and spread ¼ cup of the reserved pâté on it, leaving at least 2 inches uncovered at the edges. Top with a quarter of the reserved veggie mixture and 3 avocado slices and arugula. Roll the tortilla up carefully burrito-style. Repeat this process until all the tortillas are filled and rolled.
Hope you enjoy this as much as I do!
Sending you lots of love,
Kimberly
Save