My "Roadmap" Plan for Rapid but Healthy Weight Loss Success
Over the years, I've been blessed to take this Beauty Detox journey with so many of you. It's been fulfilling and magical beyond words. We've all grown so much together! 
In the last year, my connection with the community has grown even stronger. In addition to the Beauty Inside Out podcast, where I get to speak freely on a wide range of topics and spend time answering questions you submit to me — I've begun touring more and doing a lot more public speaking and holding events where I get to personally interact with so many of you Beauties from this community.
Those interactions and our team's research brought truly fascinating insights to us about what it takes to thrive best with the Beauty Detox lifestyle in a concise way, especially when one is looking to slim down in a healthy way- and how one, regardless of past experience — can best do that. We've put it all into a NEW program we're calling the 30 Day Roadmap For Healthy Weight Loss  — and before I tell you more about it, I'd love to walk you through a list of key discoveries we've made:
Discovery #1:

Beauty Detox Principles Really DO Help with Weight Loss and More!
Beyond my own transformation and that of clients I've worked with over the years, I've personally interacted with thousands in the community who've had their weight, health, beauty and entire lives transformed by these principles. And beyond them, I know of hundreds of thousands more who've read my books, blog or other information I've gotten out, whether through national television or magazine segments, etc.
I know I'm biased, yet it's the truth. In a dietary world filled with "shortcuts" and a narrow minded focus on weight loss at the expense of overall health and long-term aging… it's clear people appreciate a balanced, whole body approach. I realize this may be obvious to some, including you, given that you're reading my blog!
However, it's the critical first piece to understand.
Discovery #2:
Information Overload Is a Real Problem
Given the immense amount of information that exists — not just in the wellness space, but every dimension of life — I'm especially grateful that you and so many others have chosen me as a voice to embrace. It really means the world to me.
I know that I'm personally very mindful of the volume of information you have coming at you via new feeds, television, social media, websites, videos, our phones and even other emerging sources. We live in a noisy place, but more isn't necessarily better! There are a lot of newer folks trying to jump into the wellness bandwagon, which isn't necessarily bad, but it's confusing where or who to really trust.
I'm honored to say that I've been fortunate to have been passionately promoting health and nutrition for nearly a decade now! My blog alone has been online for almost 8 years. And in that time, I've published 4 best-selling books, countless recipes, given thousands of tips and shared more content to probably keep you busy for a lifetime.
So it's long been a goal of mine to distill everything down into a single plan focusing on healthy weight loss in a very straightforward fashion. That way, those who want more information and learning on their journey can always get that, while others can also get the full benefit of Beauty Detox — regardless of the time or attention capacity they have available. More on this in a moment!
Discovery #3:
We All Need Explicit Guidance in Key Areas
I've already mentioned that we're all away of just how noisy the world is becoming. Each day, we're not only bombarded with more information and stimuli than our brains can fully process — we're also faced with a near-endless array of decisions to make.
This isn't just me saying this, either. "Decision fatigue" is a real, researched phenomenon. In one study, scientists found that judges who later in the day — after making many decisions — struggled with this problem. And in the middle of their decision fatigue, they consistently granted parole 60% less often.
Same average circumstances, same scenarios — yet dramatically different (and less fair) choices due to being in a state of decision fatigue. This has massive implications for us- including in our ability to stick to any diet, eating plan or lifestyle change. Because the moment our decision-making capacity becomes drained, we're less likely to do what we know to be the right or best thing for our bodies.
This means we can benefit greatly from being guided with explicit, step-by-step instructions on what to eat and do exactly to lose weight– and this is what so many in the community have asked me for. I've taken this to heart and have worked tirelessly to simplify Beauty Detox into a clear series of steps and instructions that leave NO questions or room for decision fatigue to come in. That's what our new Roadmap program is all about…
Discovery #4:

Time Is Our Most Precious Asset
You've heard this before, yet I've personally seen it in the context of my own life and interacting with the community. As the mother of a beautiful baby, author, multi-business owner, speaker, nutritionist to personal clients and other roles — my time has never been scarcer and at a premium.
And I know I'm not alone. Every Beauty I've ever met in the community is juggling work, relationships, family and/or children, health, social time and dozens of other hats they wear. We never feel like there's enough time for everything we want to do, and unfortunately, making the meaningful health changes that produce dramatic transformation often get put on the backburner of our lives.
Seeing this in my own life and others, I've made it my mission to find a way to distill Beauty Detox — at least the core elements of what to eat and do each day with a weight loss goal in mind — into the most condensed possible format. That way, it's something anyone can do, regardless of his or her time and schedule.
On top of this, I've put special focus on simplifying food planning and preparation — because food (and decisions about food: see my last point) often consume a massive amount of our weekly mental energy. By learning how to prepare multiple healthy meals at once, and how to creatively use leftovers — we can slash our kitchen time in half, and experience more health benefits and lose weight easily with whole foods. While freeing our time and energy for other passions we may not even feel like we have time for currently.
This is a huge focus of our new Roadmap program, and I'm excited to see what you can do with all the additional time it frees up for you!
Discovery #5:

Nothing Is More Motivating Than Results
Before I address the last key discovery we've recently made, I want to say that we are often too hard on ourselves. We see some people as having more motivation or focus (or whatever we look to in others) and then judge ourselves in comparison. It's really not fair to our deeper selves, as nothing is ever quite as simple as it seems. And we are all on our own personal journeys.
That said, I've also found that those with the greatest motivation are usually those who see results the fastest. It's only natural, the moment we observe our hard work and effort yielding a return — we're inspired to double down and keep going. This becomes a virtuous cycle that further feeds our progress, our level of inspiration and overall transformation.
All this helps explain why my team and I have tasked ourselves with coming up with the BEST way to try and get people rapid weight loss results; while also creating sustainable habits and routines that can be maintained beyond the initial period. Because it's certainly possible to get considerable weight loss results from some kind of crash diet– the problem is that doesn't actually teach you HOW to eat, plan and prepare all your food in a sustainable, lifelong way. And even if you lose weight with such fads, your skin and energy might suffer.
Our new 30 Day Roadmap Program, on the other hand, is capable of producing truly profound shifts in your health, digestion, weight, energy and overall beauty — without the extreme need for crash dieting or something your body can't sustain.
The 30 Day Roadmap is the Distillation of So Many Insights I've Learned Over the Years!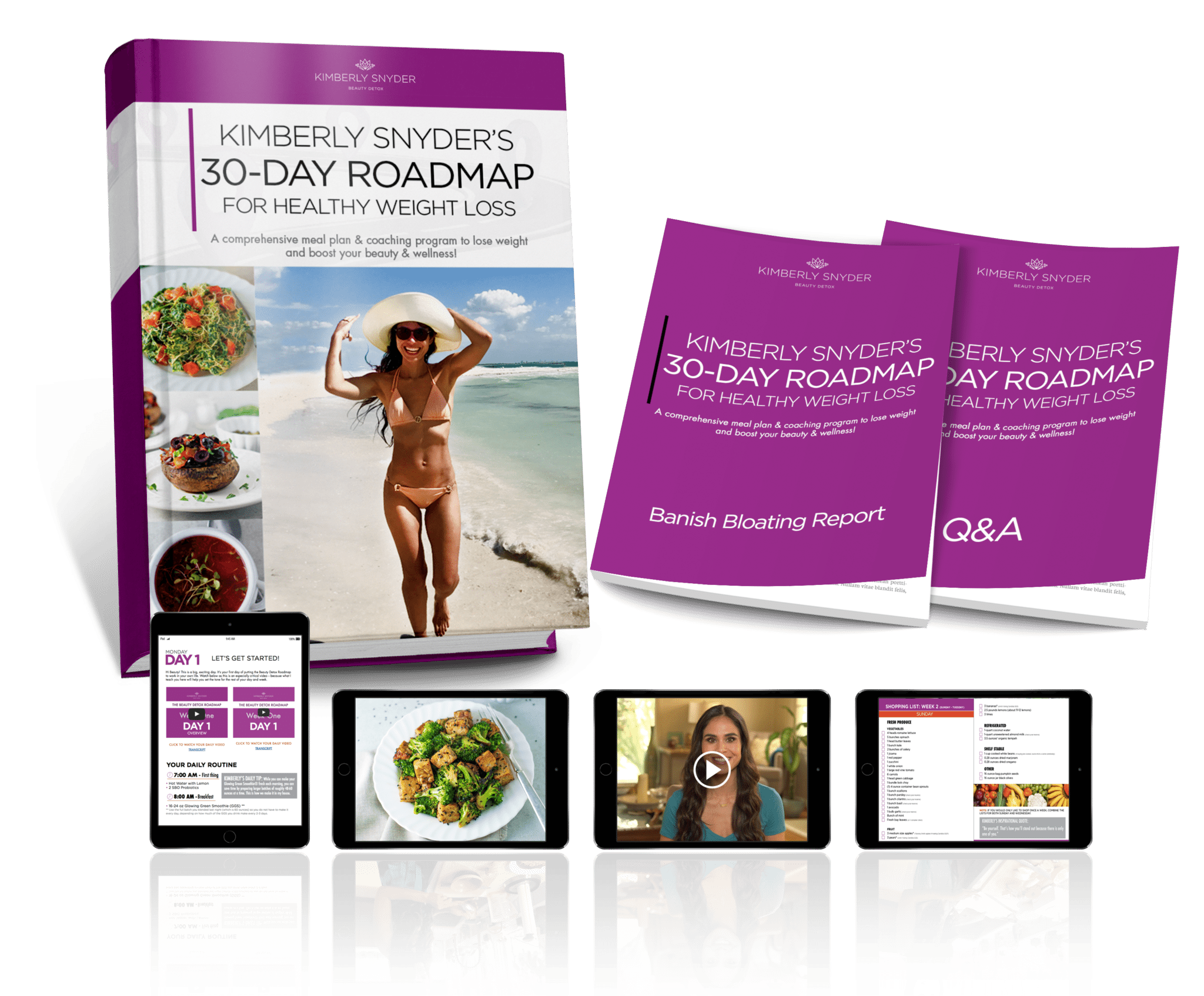 This is why I'm so unbelievably excited to announce its launch today. It may just be THE most powerful transformation & weight loss tool we've ever created. The reasons for that are vast and varied, so let me summarize using what I've shared with you in this blog as a framework:
It's an entire, step-by-step Beauty Detox Menu and Meal Plan with maximum nutrition & Digestion (and yes, minimum calories- though it happens naturally and without obsessing!). I personally created an array of delicious, filling recipes that leave you feeling satiated all day long, feeling nourished and yet able shed weight at the maximum possible rate.
Every single step is outlined for you, every single day. Forget decision fatigue — because with the 30 Day Roadmap, you'll always know what to shop for, how to make each meal, which meals to eat when, how to prepare food ahead and creatively use leftovers and so much more.
The Roadmap is the closest thing to having me as your personal nutritionist. Along with detailed shopping lists, recipes, meal plans, and instructions — each day comes with an inspiration video from me where I provided added encouragement and tips for success. So it goes beyond the explicit guidance we all crave, and actually supports you with love, positivity and inspiration from me — every single day.
It leverages your most precious asset (time) as efficiently as possible. As noted a moment ago, I know that few of us have the time, besides our job/families/kids/responsibilities, etc. to make decisions every day about how to lose weight and then buy all the right foods and cook or source it all. With the Roadmap, every meal and day on the 30 day program has been designed with the limitations around time in mind. You get the most concise instructions for shopping, planning, cooking, doing your morning routine — and anything needed for success each day.
Finally, it truly maximizes your 30-day results — while setting the stage for life-long success. The  nutrition-dense, highly satisfying nature of the program — filled with savory meals, snacks, smoothies, beverages and even dessert — while also being lower-calorie and slimming… help ensure the Roadmap not only helps you over the 4 weeks that you use it. It also lays the foundation for daily routines, lifestyle and eating that you'll be able to take with you and benefit from — the rest of your life.
I'm Beyond Grateful to Finally Share The
30 Day Roadmap for Healthy Weight Loss with You Today!
Yes — this program is available right now — on this page! When you click and head over there, you'll be able to see more information about it, pictures for some of the key recipes and guides, along with pricing and how to get started.
As I noted, while I'm honored to already touched the lives and positively shifted the health of so many within this beautiful community — I'm even more excited for the next wave of transformations that are about to take place thanks to The 30 Day Roadmap for Healthy Weight Loss.
There's simply never been an easier, more clear, step-by-step way to leverage Beauty Detox principles, recipes and lifestyle secrets in your own life, each day. When you join me and the many other Beauties who will participate in this inaugural Roadmap course — you can be sure you'll experience truly miraculously growth in your ability to succeed with this lifestyle, while looking and feeling better than you ever have.
I'm just filled with so much love — for you, this message, and the good we are spreading in this world by eating such a healthy, earth-friendly, plant-based diet that facilitates thriving on every level. And I know this love and inspiration I feel now is only the beginning.
What a miracle this journey is!
Thank you from the bottom of my heart for sharing it with me — I look forward to continuing to help you through the Roadmap and beyond.
With gratitude and love,
Kimberly