Feel Nice: Vanilla Cherry Nice Cream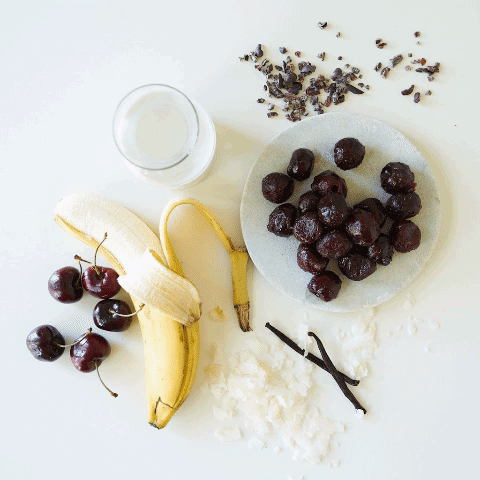 Dreamy, creamy, and making you feel so sweet inside,  you're going to love my new Feel Nice: Vanilla Cherry Nice Cream recipe! What is nice cream you wonder? Well, Beauties be prepared to have your taste buds explode. My Feel Nice: Vanilla Cherry Nice Cream is a super yummy healthy banana-based alternative to ice cream. It packs all the sweet and creamy you crave without any of the dairy or bad sugars!  Are you salivating yet? I am!
You don't have to use one of those fancy ice cream makers to enjoy nice cream Beauties! In fact, all you need is that same blender that you use to make your GGS in the morning, like a Vitamix, and you're good to go. Using a food processor also does the trick! ;)
Feel Nice: Vanilla
Open up the lid of a container holding vanilla and take a big inhale? Aww… I just love that smell! What do you notice? It makes me feel like I am getting a nice warm hug on the inside. Vanilla doesn't only just smell good, it also comes with some awesome benefits that make you feel good too!
Vanilla is what I like to call a feel nice ingredient. When you are not feeling so nice, say you're on a boat trip and feeling a bit nauseous, you can actually enjoy some vanilla to help soothe your discomfort. Vanilla is amazing at promoting healthy digestion. It does so by helping combat inflammation in your gut.
Another way to greatly help digestion is to take digestive enzymes!
Now I am not saying eat a scoop of vanilla ice cream and you'll be doing your gut any favors. What I am talking about is the pure organic vanilla bean. And if you can't find that in your local market, organic vanilla extract will do the trick too.
Just be sure to steer clear of artificial vanilla, which is made with pure vanillin diluted with water, and alcohol. Even though the vanillin is chemically identical to that found in real vanilla, it's being extracted from coal tar (or wood pulp), as a by-product of paper production and extremely inexpensive to produce.
Sleeping Beauty: Cherries
Cherries rank in the top 3 of my favorite summer fruits. These shiny red gems pack so much power in every bite! Think of them as little helpers, easing you into sleep, and making your beautiful skin glow.
Did you know that cherries are one of nature's few sources of melatonin?  Melatonin is a hormone that lowers body temperature, making us feel nice and sleepy. One study shows how cherries are an excellent source of melatonin, and by increasing their intake, you increase your melatonin levels—which leads to better beauty sleep [1]. So you can eat this Feel Nice: Vanilla Cherry Nice Cream and be ready for a nice nap when you're done. 
Speaking about sleep, have you taken my Sleep Quiz yet? If not – what are you waiting for? In just a few short minutes you can find out if poor sleep is hurting your health and beauty. So jump on it and be sure to let me know what you learn!
Cherries also contain high levels of skin glowing antioxidants. Basically, antioxidants help stop or prevent cell damage that is caused by oxidants—hence, anti–oxidants. And oxidants are free radicals that you find in the environment. Our body does produce antioxidants naturally, but giving it an extra boost of antioxidants with my Feel Nice: Vanilla Cherry Nice Cream will only help you glow more radiantly!
So with all this talk on the amazing benefits of cherries, you can see why these gems are considered one of my favorite summer fruits!
Creamy Cravings: Banana 
Before you dive in start making this Feel Nice: Vanilla Cherry Nice Cream, I want to give you the low-down on what makes this so creamy. The trick, my beauties, is not dairy.
If you are following the BDS lifestyle, and have read any of my books, then you know why we opt out of any and all dairy products.
To sum it up quickly, dairy is not intended to be ingested by humans. Consuming dairy products can wreak havoc on your digestive system.
According to Harvard University, dairy consumption accounts for 60 to 80 percent of estrogens consumed. Another danger is recombinant bovine growth hormone (rBGH), which is a growth hormone used in dairy cattle.
The creaminess actually comes from using frozen bananas! If you are thinking of making this Feel Nice: Vanilla Cherry Nice Cream, be sure to freeze your bananas ahead of time. I like to let my bananas get nice and ripe before I peel them and add them into my freezer. In order to make sure your bananas don't turn into one solid brick, be sure to lay your bananas on a tray and let them freeze up before putting them in a BPA free plastic bag.
Do you know that ripe bananas are more alkaline-forming than non-ripe bananas? So there is no need to let those little black spots scare you away. Ripe bananas are also sweeter! Eating this nice cream will make you feel nice and reassured, know that you are loading your body with creamy alkalizing bananas.
Feel Nice: Vanilla Cherry Nice Cream
To conclude, I like to make this Vanilla Cherry Nice Cream and enjoy it right away. But, if you are looking to keep this treat on hand, just pop it in the freezer. You'll need to allow it to defrost for a bit before indulging, but I promise you Beauties it will be worth the wait!
Feel Nice: Vanilla Cherry Nicecream
Ingredients
1

cup

frozen cherries

2

frozen bananas

1

cup

vanilla almond milk

½

vanilla bean

TOPPING OPTIONS

Cacao Nibs

Coconut flakes

Whole fresh cherries
Instructions
Combine cherries, banana, almond milk, and vanilla bean in a high-speed blender until fully combined. Optional to add more almond milk for thinner consistency.

Sprinkle on favorite toppings and enjoy!
I hope you feel all nice inside after enjoying my Vanilla Cherry Nice Cream Beauties! Lots of love to you now and always!