How to Make Healthy Holiday Starbucks Drinks At Home
Holiday beverages bring us cheer and help us create and remember fond memories. Many popular holiday beverages come from Starbucks— from the pumpkin spice latte to the Christmas cookie frappuccino, toasted white chocolate mocha, and so much more, there's a Starbucks drink for every flavor of the holidays. Unfortunately, these popular drinks have lots of extra sugar, fat, flavored syrup, and empty calories we normally wouldn't want to consume!
Overdone, these loved holiday beverages can contribute to inches around your waistline, and the dreaded holiday weight many gain during this special time of year. Specifically, the average holiday beverage can contain upwards of 350 calories and most are created using milk, sugar, all sorts of chemicals for flavor, and even alcohol. (Although I don't encourage counting calories, I also don't support consuming lots of empty calories).
You may be asking yourself— how can I enjoy the holiday season, stay healthy and not feel deprived of my favorites?
While you can make substitutions at Starbucks— like swapping dairy milk or heavy cream in your drinks for oat milk or almond milk— if you really want a healthier— and better— version of your favorite Starbucks holiday drink, you can actually make it at home!
So let's take a look at 5 popular kinds of Starbucks holiday beverages, and make them better the Beauty Detox Way.
1. Lots of Lattes
From the above-mentioned PSL (pumpkin spice latte), to others like the cinnamon dolce latte, almond milk latte, sugar cookie almond milk latte and the caramel brulée latte, there are a lot of popular holiday lattes at Starbucks. The average coffeehouse latte is made with vanilla syrup or flavors, steamed milk, coffee, tons of sugar and whipped cream. There are more than a few Beauty Detox no-no's involved here!
You may be surprised by how easy it is to substitute any of these beverages for a healthy, tasty treat! Here are a few of my favorite latte recipes to help you get started.
Other Latte Recipes to Enjoy
2. Eggnog
While Starbucks is beginning to phase out its popular eggnog latte, it's hard to talk about holiday drinks without mentioning eggnog. This traditional holiday favorite is a heavy, sweetened dairy-based beverage, where you um, drink eggs.
It may sound odd to the non-eggnog drinker— such as yours truly— as it was never part of my holiday traditions growing up. But I know that some of you grew up with it and love it.
To create this drink you traditionally use milk, cane sugar, and whipped eggs, garnishing with a cinnamon stick or nutmeg. Like regular lattes, there are a lot of ingredients in eggnog that you want to avoid, but don't worry my eggnog-loving Beauties! You can enjoy it the Beauty Detox way too.
Here's my recipe for creamy vegan eggnog, where you can enjoy this old holiday favorite without the eggs and dairy.
3. Hot Chocolate
A staple for many people over the holidays is hot chocolate— including Starbucks' traditional hot chocolate and white hot chocolate drinks. But whether you order from the coffee shops or make it from your favorite mix, be careful with this treat! Although it seems like they're made with simple ingredients, many pre-made mixes with pretty packages actually have many ingredients in them that you do not want to consume.
Most hot chocolate mixes have a high sugar content and most brands of hot cocoa mix have partially hydrogenated oils— two things that should definitely be avoided for the sake of your health.
No need to worry though, because it is beyond easy to make a Beauty Detox-approved cup of hot chocolate that is delicious and satisfying. The kids will even love these recipes too. :)
Another great way to enjoy the flavor of hot chocolate is in smoothie form— my Hot Chocolate Protein Smoothie Booster has all the festive chocolatey goodness of your favorite hot cocoa, but without any of the ingredients that will make you feel sluggish or bloated afterwards!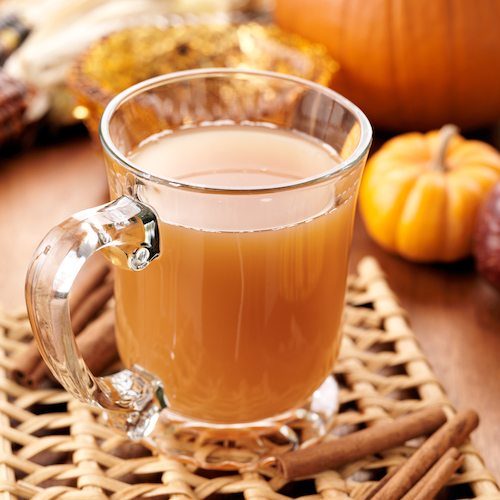 4. Apple Cider
While Starbucks doesn't carry apple cider itself, they do carry some apple-y drinks like the caramel apple spice that, like the others in this article, are full of Beauty Detox no-no's like dairy, and all that extra sugar and fat.
Apple cider itself is an amazing way to warm up during the cold winter months— if you are making it yourself! In many store-bought apple ciders, there are large amounts of added sugar— and that is something we want to avoid as much as possible.
When making your own apple cider, it's very important to source an organic apple juice base, because apples are one of the Dirty Dozen produce items. This means they are one of the most highly pesticide-sprayed crops, and it's important to avoid these toxins to keep yourself healthy for years to come.
Want to make your own apple cider, or enjoy the flavors without the guilt? Check out some of my favorite recipes below!
More Delicious Apple Cider Recipes
5. Alcoholic Beverages
While Starbucks does not serve alcoholic beverages, I wanted to include this as a bonus considering how many holiday drinks include alcohol— mulled wine, hot toddies, alcoholic apple cider, even eggnog with bourbon in it!
During the holidays, we all may feel the urge to indulge ourselves a little more than usual, even with alcoholic beverages. 3+ glasses later, we realize we may have had one or two too many. The best way to avoid this is to mindfully attend your holiday parties and gatherings.
This means to make sure you have eaten properly throughout the day— and if you are going to have an alcoholic beverage, choose one that is not laced with sugar and dairy. And most importantly, sip your drink slowly and try to not have more than one or two glasses at most.
Red wine and simple cocktails like vodka, soda water and lime are a good choice year-round. At holiday parties, I sip a little champagne for our toast to participate, and that's enough for me. :) Organic red and white wine can be a good choice at parties, you can always bring a bottle for your host.
Looking for an alternative to alcohol for your next gathering (because it's helpful to have options even with small gatherings)? Try some of my festively-flavored favorites!
Bonus: alcohol isn't great for your immune system, so swapping it out for an alternative— like my Winter Spice Warming Elixir Mocktail— can help keep your immunity strong.
And for even more festive and healthy holiday drinks without alcohol, check out my vegan holiday drink guide!
Other Healthy Changes You Can Make to Your Holiday Drinks
I hope these quick and simple recipes help you to create the healthy Starbucks drink you want while still allowing you to enjoy every moment of the season. But even if you don't buy your holiday drinks from the coffee shops, there are other ways to make them healthier and better for your body.
Here is a short cheat sheet you can apply with any holiday drink!
Substitute milk or heavy cream with almond milk or coconut milk
Substitute sugar with stevia
Substitute cocoa with cacao
If you're looking for even more healthy holiday drink recipes to share with your loved ones, check out this collection of more of my favorites!
I wish you well in your food and gift preparations this holiday season, but most importantly— I hope you enjoy this magical time for yourself, and with your family and loved ones.
All my love,