The Ultimate Grocery List (Beauty Detox and Budget Friendly!)
We've all made a basic grocery list before, but have you ever made the ultimate grocery list that keeps your trip cheap AND healthy?
Grocery shopping can be so expensive nowadays. Not only that, but there are so many unhealthy foods on the shelves that are filled with added sugar, excess fat, and chemicals that must be avoided at all costs. The worst ones are the ones that look healthy but really aren't. If you've had a chance to read my Beauty Detox Solution, then you know just how conflicting traditionally healthy foods can be, and how difficult it can be to find fresh, delicious, and filling foods that nourish your whole body. 
This is where having a grocery list comes in handy; going to the grocery store with a plan to buy healthy food helps you avoid all those unhealthy foods lurking on the shelves, and it can even help you stay within your budget!
It's always nice to have a new and interesting variety of groceries available to you when you want to prepare a meal for yourself or your family. However, there are certain food staples I always like to have on hand for those days when I just need to go into the kitchen and whip up something quickly or for the days I just don't feel like making what I planned to.
I wanted to share my ultimate grocery list with you all so you can see how easy it is to grocery shop for fresh ingredients for healthy meals. Of course, you don't have to have every single item (pick and choose what you like), but it's good to have some core, reliable staples in your kitchen after every trip to the grocery store.
Let's go through this category by category.
If you want to jump to a certain section, you can do that below!
Fresh Produce
Fresh produce is one of the most important parts of any grocery list. It is the key to healthy eating and a wholesome diet. Plus, fresh fruit and vegetables are so delicious! Here's what kinds of fresh produce I put on my grocery list!
Don't Forget About Your GGS!
When you go to the grocery store, always make sure you buy the ingredients necessary for your Glowing Green Smoothie® (GGS). Feel free to mix in different greens and fruits if you see something that looks interesting to you, just remember never to use melons in it.
You'll be drinking lots of it, and it's good to have around in those moments when you'd be tempted to go out and get something less healthy. Drinking your smoothies and munching on raw vegetables will take the edge off your hunger while you prepare your dinner. I recommend buying organic as much as you can— especially with produce on the Dirty Dozen list. [1]
Nuts and Seeds
There's so much you can do with seeds and nuts in a healthy diet, and all it takes is a little bit to fill you up. A small amount of these Beauty Fats are all you need to give you glowing, supple skin.
You don't need all these nuts, but it's nice to have a variety. You can store them in your freezer if you want them to last a little longer.
Nuts and Seeds Aren't Just Snacks!
Not sure how to eat nuts and seeds, other than raw and by the handful? Here are some of my favorite ways to eat them!
You can pulverize sunflower seeds with mushrooms (or walnuts, as in my Raw Gorilla Tacos and Raw Taco Mexican Salad mixture) and spices to make a savory and satisfying meat-free mixture.
I also like to sprinkle pumpkin seeds on a salad to give it some crunch without croutons. You can also combine 1 tablespoon of chia seeds and 2.5 tablespoons of water together to create an egg substitute for baked goods or other recipes that need a binding agent.
Grains, Legumes, and Bread
Healthy and wholesome grains and legumes are vital for a healthy diet. Gluten-free bread made with whole grains is a great addition to your pantry too.
I love that you can buy a lot of grains and legumes in bulk at some stores. It's such a better deal, and then you're all set for a while.
You can use them as fillers in wraps, put them on salads, or toss them with veggies in a pan. In the case of the oat groats or steel-cut oats, you can use those to make a hearty oatmeal after your GGS if you are transitioning or get up really early and want something to chew that will carry you through lunchtime.
Buckwheat is good in smoothies or pancakes, and gluten-free bread is always good for slapping a sandwich together when you only have a few minutes before you need to leave the house. (Or if you need to hurry up and pack something to take with you!)
Plant-Based Dairy, Egg, and Meat
These kinds of plant-based substitutes can be very expensive additions to your grocery list if you're buying substitutes that are full of preservatives and ingredients your body doesn't need. Dairy, meat, and egg substitutes are actually very cost-efficient if you're buying the right items!
Coconut milk

Almond milk

Tempeh (an amazing and satisfying food made with fermented soybeans)

[2]

Ener-G Egg Replacer
If you feel like your life revolves around meat, dairy, and eggs, and you're not sure how you'll survive without them (or even with less of them!), take comfort in the fact that there are so many tasty alternatives.
Not only can you make your own meat substitutes with seeds, nuts, vegetables, and spices (like I mentioned earlier), but tempeh also works for a meaty texture in your foods. Of course, Portobello mushrooms are a great addition as well.
If you're worried about missing out on a lot of foods after changing your diet, don't worry! Switching to the Beauty Detox lifestyle won't feel like you're giving up much at all. There are always substitutes for the things you love, and you'll feel so much better when you get rid of most, if not all, animal products in your diet.
Snacks, Energy Boosters, and Sweet Flavors
Sometimes we just need something sweet to snack on! 
These are a few of the extras you can keep in your pantry for sweets cravings, energy-boosting snacks, or just for those days when you think your nutrition could use a little more of a boost. (Especially in the case of spirulina— mix some with coconut water to help get through the day.)
I especially love bee pollen mixed with a tiny bit of coconut oil when I want a little boost. It's super-nutritious and increases energy, sans caffeine. It doesn't hurt that it tastes good, too! :)
Drinks
A hydrating and refreshing beverage is vital for quenching your thirst and nourishing your body. Water is always my go-to, but here are a few other options I like too.
Coconut water (The real deal, not from concentrate!)

Sodas flavored with stevia, like Zevia or Blue Sky Free. (These are great if you're just starting out and can't quite give up soda yet.)

Organic, caffeine-free herbal teas
If you pretty much drink plain water or water with lemon all the time, this category may not apply to you. And that's okay! 
If you're just starting out on the Beauty Detox lifestyle, you may find that you really enjoy those sodas that replace your high-fructose corn syrup or aspartame disasters for a while. You shouldn't drink them forever, but they're a step in the right direction.
Also, coconut water is great to mix with spirulina powder to make the spirulina go down more easily than it would in plain water.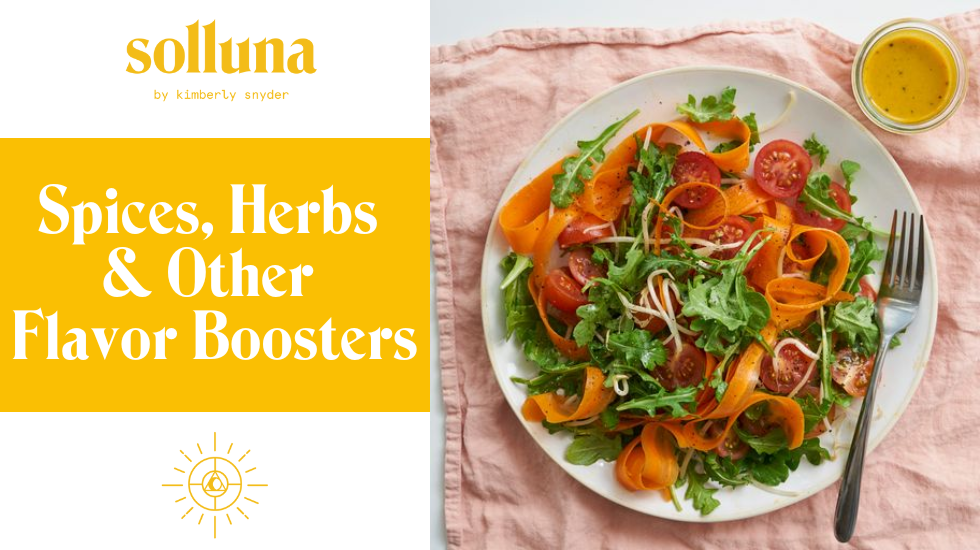 Spices, Herbs, and Other Flavor Boosters
You may not be buying these as often, but pantry staples like spices, herbs, and other flavor boosters are nonetheless important additions to any grocery list. Here are the ones I have on my list!
It's amazing what you can do with a well-stocked spice cabinet and some fresh herbs on hand! 
No matter what kind of dish or dessert you're craving, if you have a collection of spices and other items to flavor your food with, there's a good chance you'll be able to take care of any craving in a healthy way. No need to order in and get a meal full of grease and added sugar! :)
Looking for a quick and easy recipe to satisfy your sweet tooth? When you crave dessert, I recommend making chia seed pudding with stevia or coconut nectar, plus cacao and almond milk. Yum!
The Perfect Addition to Your Healthy Groceries: Digestive Enzymes
If you're looking for a way to boost your digestion and get the most out of your healthy grocery list, Solluna's Feel Good Digestive Enzymes may be just what you need! These enzymes are specially formulated to help you metabolize protein, carbs, and fat more effectively, so you can absorb more nutrients from your food and reduce bloating and gas.
One of the best things about Feel Good Digestive Enzymes is that they work whether you're eating perfectly or not-so-perfectly. So, whether you're having a cheat day or sticking to your healthy eating plan, these enzymes can help you get the most out of your food.
Make Your Grocery Shopping List Uniquely You!
I hope you found my ultimate grocery list helpful, Beauty! These are the grocery staples I like to have in my house so I can always have something healthy and nourishing to eat, even if I'm short on time or don't really feel like cooking. I'm sure we've all been there. :)
Of course, there are other items you'll need if you really want to experiment with a lot of the Beauty Detox recipes or need to make substitutions for you and your family's unique needs. So go ahead and fill in the gaps where you can when you're doing your meal planning and grocery shopping. 
Don't feel like you have to buy all of these at one time, either. You can buy these items as you need them, and in the case of spices and items you can buy in bulk; these will last you a long time so you don't need to buy them as often! You can also decide which fresh produce you'll need for the next few days and only buy what you need since it will go bad soon, then replace those necessities on your next trip. (Always make sure you're all stocked up on your leafy greens though!)
In today's day and age, grocery shopping isn't as easy as it should be. Between all the unhealthy options out there and the rising prices of groceries, it may feel difficult to buy nourishing food without spending a fortune. But don't worry, this is where your grocery list comes in!
In love and health,

Citations
Group, Environmental Working. "Dirty Dozen™ Fruits and Vegetables with the Most Pesticides."

EWG's 2022 Shopper's Guide to Pesticides in Produce | Dirty Dozen

, www.ewg.org/foodnews/dirty-dozen.php.

Hackett, Jolinda. "What Is Tempeh? A Guide to Buying, Cooking, and Storing Tempeh."

The Spruce Eats

, 21 Dec. 2022, www.thespruceeats.com/what-is-tempeh-3376821.