Lifestyle Changes with Joe Cross & The Do's and Don'ts of The GGS [BIO Podcast: Ep 57]
Tony and I are back this week as they talk about Beauty Detox from the male perspective. Tony and I discuss why the ratio of seasonal fruits and vegetables is so important and how the Glowing Green Smoothie actually provides loads of amino acids to build protein in the body.
We also talk about ways to maximize the benefits of your Glowing Green Smoothie, as well as the do's and don'ts of GGS-making. Finally, we talk about how much of the Glowing Green Smoothie should be consumed and when.
Next, is my very special guest, Joe Cross, who is an author, director, and executive producer. We discuss Joe's huge lifestyle change and how you too can overcome health issues by turning your diet and lifestyle around. Joe also helped create and star in the popular and inspiring Fat Sick & Nearly Dead documentary and is author of The Reboot with Joe Juice Diet.
Joe shares his personal journey before and after being introduced to juicing and eating a more healthy diet. Finally, we discuss his new film called The Kids Menu, and his approach to children's diets and how they, too, can live a productive and fulfilling life. (What a great interview!)
[BULLETS]
[FEATURED GUESTS]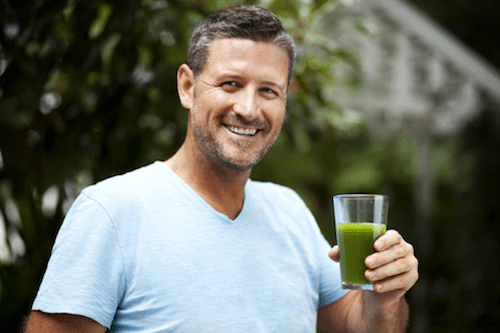 About Joe Cross
Joe Cross is an Australian entrepreneur and investor who invests in early stage high potential growth companies. These include investments in the fashion, transportation, private equity finance, derivatives trading, early childhood education, structural steel distribution and health and wellness sectors.
Most recently, Joe founded Reboot Media; a health and lifestyle brand that creates entertaining and actionable educational media for anyone that is sick and tired of being sick and fat. Joe is the Chairman and CEO of Reboot Media, as well as the Co-Director, Executive Producer, and the host and subject of Reboot Media's first feature length film, "Fat, Sick & Nearly Dead". Joe lives in New York and Sydney.
About Tony Flores, a long-time friend of Kimberly who, after graduating from Stanford University, began researching and writing professionally full-time. He has a passion for natural health, especially Beauty Detox, and loves to share exciting new studies and insights he learns with Kimberly and the community!
I LOVE HEARING FROM YOU! :)

There's lots of ways to share your responses or questions about the podcast:
Be sure to Subscribe to the Podcast, so you never miss an episode!

HOW TO SUBSCRIBE

You may be really intrigued by podcasts, but you may just know how to listen or subscribe. It's very easy, I promise! To listen to more than one episode, and to have it all in a handier way, on your phone or tablet, it's better to subscribe so you never miss an episode!

Want to know what to expect from other episodes of the podcast, when you listen to "Beauty Inside out with Kimberly Snyder"? I talk about my knowledge, philosophies and personal experiences on a variety of topics, including on health, beauty, nutrition, yoga, spirituality and fitness. Lively discussions and interviews are infused with helpful tips and takeaways. From interviews with today's top health, wellness and spirituality pioneers, authors, Ayurvedic and Western doctors, artists and entrepreneurs to yoginis, spiritualists, and world-class vegan athletes, Beauty Inside Out is as informative as it is inspirational. My passion is to educate, inspire and empower YOU to become your most beautiful self from the inside out.
LEAVE A REVIEW ON ITUNES

Listeners really respect the views of other listeners, so your response helps people find good material they are interested in!
If you enjoyed the podcast, please tell your friends and give us a rating or review.  Many thanks in advance.

[RESOURCES / INFORMATION]
Getting the Glowing Green Smoothie to Work for You Segment:
Different Versions of the Smoothie to Get Your Creative Juices Flowing:
Joe Cross Interview:
In love and health,
Kimberly