Spicy Asparagus & Grilled Portobello Tacos Recipe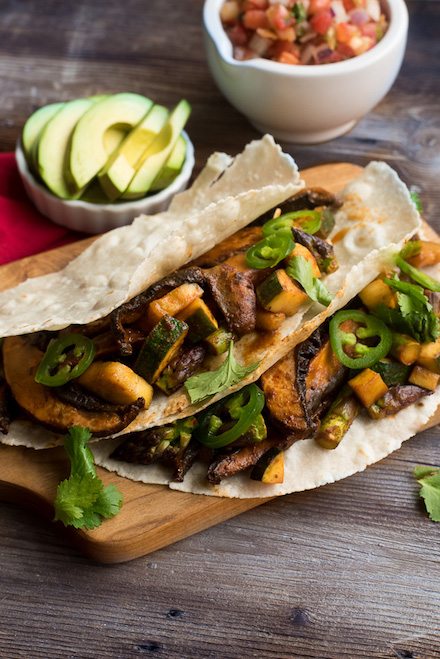 Because I live in LA and see taco trucks all the time, I'm super inspired to come up with a delicious but healthier alternative. I get it- late night or post-long work day, fast, yummy…tacos are awesome! But I do believe- and proven by my new recipe here- that tacos can be all of these things, BUT we can instead treat them as little tortilla boats carrying us beauty ingredients with scrumptious flavor combinations. :) (Not inflammation and bloat and bad oil and the like!)
My new Spicy Asparagus & Grilled Portobello Tacos Recipe IS all of what you want from a taco and more. The more? Hmm, what about gluten-free tortillas, cleansing asparagus and protein and mineral-rich Portobello shrooms?! I think you're going to love this new spin for an upcoming taco night!
Beauty-Cleansing Asparagus
Asparagus is such a great spring-time veggie and can be added to salads, soups, stews, and yes, tacos! Rich in fiber and protein (about 4-5 grams per cup), asparagus is great for keeping us glowing and toned from the inside out.
Boost the power of your gut health and increase your overall beauty by clicking here!
This veggie also supplies us with vitamin A and vitamin K.
Asparagus is usually in season from around February through June—giving us a great opportunity to include this amazing beauty food into our picnic plans.
Protein-Packed Portobello Shrooms
I love mushrooms and the variety of choices we have, but I must say, Portobello mushrooms are especially great for those of us trying to replace (or limit), their meat intake. They are so hearty and versatile, and a great source of amino acids/protein, that you may find yourself not missing out on the meat.
Meat is heavy to digest, acid-forming, and excess puts a great deal of extra pressure on our kidneys and liver. This is a beauty/health no-no, as our livers are so important for detoxification. Animal protein is also the industry most destructive to the environment as a whole, including 90% of rainforest destruction and deforestation across the planet to create grazing land for grass-fed cattle!
I'm passionately in love with a plant-based diet and follow one myself 100%, but it's not all or nothing. From a beauty, health and environmental standpoint I do love it, so if for any of those reasons it resonates with you as well you can try making more meals and then days all plant-based and see how you feel!
On a healthy note, mushrooms are praised for improving immune function—even boosting compromised immune systems—and fighting off inflammation. Another fantastic reason to rotate mushies into our diets.
Portobello mushrooms (as with all mushrooms), provide a number of essential nutrients with 15 different vitamins, minerals, and antioxidant phytonutrients. They also happen to be low in calories (without obsessing!!), while being incredibly nutrient-dense.
What About Grilling?!
You may be wondering if grilling vegetables is safe—considering that grilling/charring meat has been likened to cigarettes (SCARY), because of the carcinogenics. The disastrous affects of grilled or charred meat make them something that can truly accelerate inflammation and aging in your body (as I discuss in Radical Beauty ). This counteracts everything we are striving to reach for in our Beauty Detox lifestyle.
Safe to say, grilling vegetables is not toxic!!! This is because grilling or charring animals changes the construction of the food and effects the amino acids- making the foods extremely unhealthy. Thankfully, grilling veggies fits perfectly into the Beauty Detox lifestyle. Just be sure to mix things up, eating cooked as well as raw foods, to maximize the health benefits (I discuss this topic here, on my Beauty Inside Out podcast).
Well all that being said…I'm super excited for you to dig into some tacos which are actually going to boost your beauty, your energy and the unique amazing YOU that you are!
Let's check out these easy and simple steps…
See this full tasty recipe below…
Spicy Asparagus & Grilled Portobello Tacos Recipe
Ingredients
2

brown rice gluten free tortillas

toasted in pan

• 4-5 stalks of asparagus

chopped

• 2 portobello mushrooms

de-stemmed

• 1 zucchini

chopped

• 1 Tbs coconut oil + enough to grease pan

• ¼ of a jalapeño

thinly sliced

• Juice of 1 lime

• Sea salt

to taste

Freshly ground black pepper to taste

1/2

bunch of cilantro

roughly chopped

1

avocado

sliced

Salsa

Spice Mix

• 1 Tbs. paprika

• 1 tsp. cumin powder

• 1/2 tsp. fine sea salt

• 1/2 tsp. powdered ginger

• 1/4 tsp. cayenne pepper
Instructions
Start by gathering, preparing and measuring all of the ingredients.

Prep all the ingredients for the spice mix in a small bowl or jar and mix thoroughly.

Chop the Portobello mushrooms, zucchini and asparagus and toss them in a bowl with the coconut oil and your spice mix, as well as sea salt and black pepper to your taste and spread the veggies out in your pan.

Turn on your stove to medium heat and use coconut oil to coat the pan.

Grill for 8-10 minutes on each side or until they are cooked through

Remove from the heat.

Spread the veggies over the tortillas.

Top with the chopped cilantro, avocado and salsa and enjoy!
Keep this recipe handy by adding it to your Dinner Recipes Pinterest Board!
With great love,
Kimberly
Save
Save