8 Health and Wellness Benefits of Keeping A Consistent Sleep Schedule [Episode #726]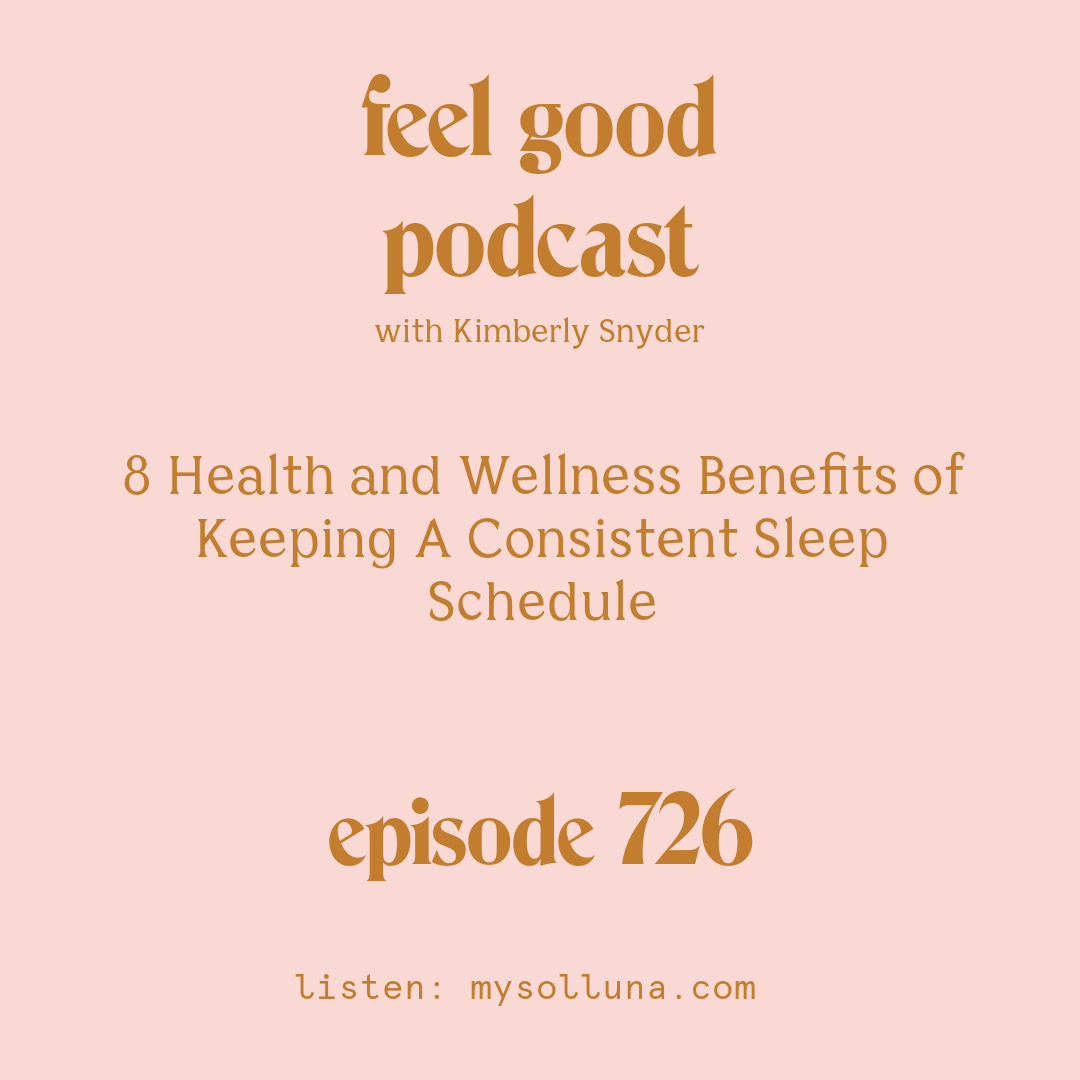 This week's topic is: 8 Health and Wellness Benefits of Keeping A Consistent Sleep Schedule
The word we want to emphasize today is consistent. And while we may not always hit the exact time for bed and waking, what we want to discuss today is this idea of rhythm and working towards a more consistent pattern.
There are many benefits to this, including enhanced energy, vitality, feelings of groundedness and wellbeing, more efficiency in our bodily systems, including our endocrine functionality, hormones and immunity and digestion in many different aspects. Once we start to get into more of a consistent rhythm, we start to see that our bodies are able to operate as a more efficient machine. I'm very excited to get into our show today with lots of tips, takeaways, and tools you can start using today.
Have you been wondering about this very topic? If you want to know the answer to this question sent in by a Beauty just like you, listen now to find out!
Remember you can submit your questions at https://mysolluna.com/askkimberly/
[Question Answered]
Jasmine – Oregon (Body Cornerstone)
Kimberly, I read that most people don't get enough sleep and are chronically tired. How much sleep is enough and what can I do to improve the quality and quantity of my sleep?
I LOVE HEARING FROM YOU!
There are lots of ways to share your responses or questions about the podcast:
Be sure to Subscribe to the Podcast and follow me on Soundcloud, so you never miss an episode!
HOW TO SUBSCRIBE
You may be really intrigued by podcasts, but you may just know how to listen or subscribe. It's very easy, I promise! To listen to more than one episode, and to have it all in a handier way, on your phone or tablet, it's way better to subscribe so you never miss an episode!
Want to know what to expect from other episodes of the "Feel Good Podcast with Kimberly Snyder"? My passion is to inspire and empower you to be your most authentic and beautiful self. We offer interviews with top experts, my personal philosophies and experiences, as well as answers to community-based questions around topics such as health, beauty, nutrition, yoga, spirituality and personal growth.
The intention of the Feel Good Podcast is to well…help you really Feel Good in your body, mind and spirit! Feeling Good means feeling peaceful, energized, whole, uniquely beautiful, confident and joyful, right in the midst of your perfectly imperfect life. This podcast is as informative and full of practical tips and take-aways as it is inspirational. I am here to support you in being your very best! I have so much love and gratitude for you. Thank you for tuning in and being part of the community :).
LEAVE A REVIEW ON ITUNES
Listeners really respect the views of other listeners, so your response helps people find good material they are interested in! If you enjoyed the podcast, please tell your friends and give us a rating or review. Many thanks in advance.
[RESOURCES]
Four Cornerstone FREE Guide: Text the word GUIDE to +1-855-741-0602
Additional resources in transcript
Other Podcasts you may enjoy!:
LMNT: Right now LMNT is offering my listeners a free sample pack with any purchase, That's 8 single serving packets FREE with any LMNT order. This is a great way to try all 8 flavors or share LMNT with a salty friend. Get yours at DrinkLMNT.com/FEELGOOD.
Feel Good SBO Probiotics: Use code: wellness15 for 15% off
Transcript:
Note: The following is the output of transcribing from an audio recording. Although the transcription is largely accurate, in some cases it is incomplete or inaccurate. This is due to inaudible passages or transcription errors. It is posted as an aid, but should not be treated as an authoritative record.
Namaste loves, and welcome back to our Thursday Q&A podcast where our topic this week is 8 Health and Wellness Benefits of Keeping A Consistent Sleep Schedule. So the word we wanna emphasize today is consistent. And whilst we may not always hit the exact time for bed and waking, what we wanna discuss today is this idea of rhythm and working towards a more consistent pattern. There are many benefits to this, which we will talk about in detail, including enhanced energy, vitality, feelings of groundedness and wellbeing, more efficiency in our bodily systems, including our indu, endocrine functionality, hormones and immunity and digestion in many different aspects. So once we start to get into more of a consistent rhythm, we start to see that our bodies are able to operate as a more efficient machine. And so this topic falls into our body cornerstone. We rotate every week between our four cornerstones, food, body, emotional wellbeing, and spiritual growth.
And the way, the reason that we do this is because we acknowledge that we are whole beings and we want to nourish our physical, the physical aspects of life, including our diet, what we're eating, what we're putting into our body, what we're drinking, how we're sleeping, how we're taking care of ourselves, how we're exercising with the formless parts of our being, the formless energy inside of us. So our intuition, our soul, our spirit, our mental health and everything influences everything else. And so we're not gonna get there with one way. We're not just gonna get there through diet. We're not just gonna get there through fitness. So here in our community, we really acknowledge that this holistic approach is the most powerful. So very excited to get into our show today. Lots of tips, takeaways, tools as always.
Please leave a review on iTunes and Subscribe
But before we do, little reminder to please leave us a review on Apple, Spotify, wherever you listen to our podcast as such a wonderful way to support the show. So thanking you so much in advance, it could just literally be one sentence and please subscribe to the show that way you don't forget, what was it to remember if you're not subscribed. And so that way you just stay in the flow of inspiration and ideas coming in, right? And just reinforcing positivity and positive habits. Also, please share the show with whoever you think might benefit. And this is the idea of sharing has been a core or maybe the founding principle of everything here in our community and all our offerings and Solluna Beauty Detox, everything I've ever written, everything I've ever done, and my personal experience has been that the more that we share, the more we expand goodness in our own lives. So if you come across an episode or the show in general and you think of someone that could really benefit, please send them a link or a screenshot and keep the love flowing.
Get Your Copy Of YOU ARE MORE
Our new book Baby is available now. You Are More More Than You Think You Are – Practical Enlightenment For Everyday Life. So please check it out wherever books are sold, which is a practical guide of teachings and practices to really elevate your vitality. So if you're listening to this show, I think you would really love the book as well. Your abundance, your magnetism, your peace, and so on and so forth. Okay, let's get right into the show today.
Question around the topic of: 8 Health and Wellness Benefits of Keeping A Consistent Sleep Schedule: Kimberly, I read that most people don't get enough sleep and are chronically tired. How much sleep is enough and what can I do to improve the quality and quantity
of my sleep?
Our topic, again is about the benefits of keeping a consistent sleep schedule. And our question today comes from Jasmine, who lives in Oregon. Thank you, my love for your question, sending you much love to a very green, beautiful, sometimes wet <laugh>, but amazing place in the world. I do love Oregon very much. And you write Kimberly, I struggle with getting enough consistent sleep and I wake up feeling tired. What are the benefits of of getting on a consistent sleep schedule and what can I do to improve the quality of it?
So I really appreciate you Jasmine, and this question, and what we hear about a lot is just the number of hours that we need. So we'll often hear, okay, six to eight hours is um, generally what is recommended in fact, and we'll, we'll link to some of this research in the show notes, but the generally what, um, is recommended is seven to nine hours of sleep per night and 35% of adults don't get enough sleep. I don't know about that number. You know, there's so much different research out there, and I don't know how they're sampling this to get to this number, but it seems like most people I know, and I don't know if this is because I know a lot of people that live in urban centers or living really busy lives, but it seems like there's more than 35% of people not sleeping enough.
But this is a very important aspect of our health. So moving beyond just the number, there is something to do with the consistency of sleep. And this very much goes back to our veic, um, teachings around Dina Charia daily rhythm, daily routine, meaning that when we get on a rhythm, it's similarly to how you look out in the day and like clockwork, because it is, the sun is rising, the sun is at its peak mid day, and then the sun goes down at the end of the day. And of course there's some variation between seasons when we perceive as the light in the dark in our, um, pilgrimage around the sun every year. And there is a little bit of variance, but there's this consistency. So what our aveta teaches is that energy builds over time, it builds with rhythm. And so when we have a consistent time that we go to bed, our bodies know what to do.
It's easier for our bodies to know, oh, now's time to rest and rejuvenate and restore and relax, and then our digestion regulates in accordance to a normal consistent sleep schedule. So sleep is a really big topic in our Aveda, and based on your dosha, based on your general bodily constitution, if you're predominant in Kafa or Vata or Pitta, there are recommended times for waking. And we don't have to stick to them exactly, but just knowing that, for instance, if you are a ka earthy body type, you may like to sleep in more, right? So there's um, and Veta recommends making sure that you're getting up at, you know, a little bit earlier if you are kafa, so you're not prone to slothfulness and oversleeping in the show notes. We will also link to podcast with Dr. Michael Bruce, who is a sleep expert. And what he found in his research, in his western research that one of the most important things about feeling really good during the day and taking advantage of your sleep and getting on a really powerful good sleep schedule is waking up at a consistent time.
And what this does is it resets your bodily clock. It gets you in a rhythm where you're used to, okay, I get up at six o'clock every day, I get into my routine. And then ideally you're doing the morning routine that we teach here around meditation, hot water, with lemon sbo, probiotics, journaling, really setting yourself up for a wonderful day. So the timing of this is important, rather than going to bed sometimes at nine, and then sometimes at midnight and sometimes at 10, which can happen, right? Sometimes there's events at night, but what we wanna strive for is about 80%, which is what we can say most of the time we're trying to go to bed at a consistent time. I admit that I have been a little bit off lately. There's just been things going on. I've had more events at night. Things seem to be opening up.
First grade started, there's parents' nights at Weby school and I had a friend's a women's circle last night with friends. So sometimes, you know, it was easier, it felt like easier to control during the pandemic when everything was shut down. So again, I know, I know, I know <laugh> as busy people, there's gonna be some, some, some flux, some fluctuations. But generally speaking, my aim is to be asleep before 10. And generally speaking, I wake up between five 30 and six. And so this feels really good to me to have consistency and especially good because every month we're going to Hawaii. So there throws a a little wrench in the plan where it does. But when we are in Hawaii, we do try to stay more or less on LA time. So anyways, I just know what it feels like, my personal experience. When I'm not consistent, what happens is I feel very groggy in the morning and I don't feel clear and I can be a little bit more grumpy and things just feel more off.
So this resilience that comes from sleeping well to clarity, we'll get into the actual eight benefits in a moment. I listed them out for you. It just helps our lives feel that support because we all know how busy life is and we're already running around, we're already trying to do our best. We're just piecemealing so many different things together. Healthy meals, taking care of our kids, showing up for work, getting the house going, things like, you know, tuneups to the car and doctor's appointments and workouts. Like, there's just so much. So we wanna really insert this consistency and what, um, what it can do for our lives. So let's, let's just lay that out. Now, I think this is a really great time to lay out these eight benefits, but I wanted to introduce this and I wanted you to start thinking about what is your ideal consistent sleep aiming, let's say for generally eight hours.
And you may know that you need less. So my good friend Gary Jansen, who's been on this podcast several times, he's an author, he's an editor, he's incredibly brilliant. We were talking the other day and he said, Kimberly, he's like, I just need five hours. And he said, If I go to bed earlier, I still wake up in five hours. I go to bed later, it's five hours. So I think there is something to be said about intuition, knowing our bodies, sometimes our bodies, you know, for whatever reason, maybe our bodies are more efficient, we may need a little bit less than that standard number, which again, is for the masses, but whatever that standard number is for you, again, waking up and going to bed consistently is the rhythm that we're focusing on today.
#1. Benefits of getting consistent sleep: maintain or lose weight & moderate your appetite

So this consistency, number one, uh, not in, you know, order of importance per se, but the first, first benefit I wanted to talk about is maintaining your, your weight, helping you to maintain or lose weight and moderate your appetite. So here we will link to various studies if you're interested in checking them out in the show notes. But there is, um, for instance, an analysis from 2020 that found that with consistent sleep, um, there is, or if you're, if you don't have consistent sleep, the way the study was was set up, there was a 41% increase in, in developing obesity and gaining weight and not having consistent sleep was found to, um, increase calorie intake and appetite than when we're sleep deprived. So when our bodies know the rhythm of sleep, we are getting nourishment from sleep. And if we don't have that consistency, this is how I see it. Very simply, we're gonna try to be fed from other places, including grasping for that energy, from food, from calories, from drinks. So we end up potentially affecting our weight and our body just because we're, we're, again, we're just over relying on other sources of energy, which for many of us is food because it's physical and we can just go in the kitchen and grab it.
So healthy weight and appetite is something that will naturally be regulated with consistent sleep. And there's so many, there's a lot of research around this, and this has to do with hormones as well. Research showing that sleep deprivation leads to increases in hunger, food cravings, po portion sizes, and fat intake. And this is because of the effect of sleep on hunger hormones such as grelin and leptin. So the next benefit of sleep is that sleep can enhance physical activity.
#2. Benefits of getting consistent sleep: Enhance physical activity
So when we're in that normal rhythm and consistency and our body's able to extract, it's sort of like food. Our body's able to extract nutrients from food. When we're in this consistent sleep schedule, it's easier for our body to extract the benefits of sleep. And what this does is it helps us to feel energized, to wake up feeling rested, more efficient. So we are more prone to working out.
We have less fatigue, we have more motivation. We don't wanna be sedentary, we have more dynamic energy. So this is great because we're also designed to be dynamic beings that move our bodies and move about in the world. So again, this beautiful restoration part of our cycle sets us up for healthy activity.
#3. Benefits of getting consistent sleep: Improved mood
So third benefit is improved mood. When we are able to rest and restore, it means that down to our microbiome, there is reinvigoration happening. We are less prone to moodiness and irritability and depression. So we just, let's face it, have better days. Our bodies become more efficient machines. So again, it's not just about the number of hours that we're sleeping, but the consistency. So we're able to drop in efficiently and down to those deeper sleep rhythms.
#4. Benefits of getting consistent sleep: Healthy heart

Number four, healthy heart. So when we are consistent with the rhythm of our sleep and we're getting quality sleep, this very much benefits cardiovascular function.
And so during sleep, we know our heart rate slows down, our blood pressure decreases. So these very important parts of our body are able to really rest. If we're jagged in our routine, we're all over the place. This doesn't give our hearts the same ability to rest. There is a lot that Paramahansa Yogananda, the great yoga guru talks about with heart rate and rest. And this is something that, you know, again, in, in yogic philosophy has a lot to do with expansion. When we're able to really have healthy heart rate functionality, it allows us to get really calm and really efficient inside of our bodies. And this restfulness lends ourselves, lends itself to expansion in prana, expansion in our vitality and our energy and our connectivity. And so it's very important that we take care of our heart health, which again is, is related to consistent sleep schedule.
#5. Benefits of getting consistent sleep: Regulated body sugar

Number five, regulated body sugar. So sleep has a big impact on hormones, as we've just mentioned, including our relationship with the hormone insulin, which helps to re regulate blood sugar. And it also, what happens is the glucose enters our body cells and the cells then use this glucose's energy. So when we are sleeping consistently able to regulate this blood sugar in the body, and this is important for just overall balance. If we're not sleeping well, this can put us at increased risk for type two diabetes, which we know is such an epidemic today in the Western world especially. So this balance, this delicate balance with hormones, it needs sleep, it needs this rhythm to be in place in order to function well.
#6. Benefits of getting consistent sleep: Improved mental function

So number six, improved mental function. So we talked about moods, but also cognitive thinking, memory, being able to pull different parts, little bits of information so that we can continue to flow through the day making the best decisions.
So when we have more mental clarity, we know what that feels like, it's like the fogginess goes away, we can step into more of a flow state as well, which is so important to our day to day experience of life feeling fulfilled. We know those days where everything just feels like it's half done and we're scattered and the days don't feel as good, we don't feel grounded. And what this does is it kicks up the, the va, the over over accumulation of VA in our bodies, which is the air, the wind energy. And what this does is it also then contributes to anxiety. So when we sleep, we're really creating a balance in these element and from the elemental energetic aspect of our being. So we are less prone to anxiety and then we know anxiety than is related to bloating, more anxious, there's less blood flow, there's less circulation in our, in our systems.
So then we also don't feel good and we tend to gain more weight. We're more prone to food cravings. Everything works together. So this clarity, which is so important, it allows us to feel grounded. It allows us to come more from our heart space because when we're stressed out, we tend to be more reactive, a little bit more short with people versus this groundedness real deep groundedness, which allows our heart energy to open up.
#7. Benefits of getting consistent sleep: Restored immune function
Number seven, consistent sleep lends itself to restored immune function. And so during sleep, the body produces growth hormones that are really important for the development of children and adolescents. Another reason it's so important for children to have consistent sleep, but for adults as well. These hormones are repairing our tissues and they're repairing the cells of all of us, all hs. The body also produces cytokines during sleep, which support the immune system in fighting infections. So this consistency, again, regulatory sleep, regulatory immune system.
#8. Benefits of getting consistent sleep: Stress relief

Number eight, last but not least, is stress relief. And we know that stress leads to inflammation, it leads to breakdown in all areas. So it's very important that our bodies restore back to our natural state of peacefulness regulated systems in the body. Otherwise, without consistency, we may just really feel the effects of stress building more day by day. So it's like this dumping out every night, <laugh> when we're in this beautiful rhythm of allowing our bodies to restore more and more. So it is important to, to support consistent sleep. And some of this is written about in, um, a section of a book that Deepak Chopra and I wrote called Radical Beauty, which you may wanna check out as well, is to create a lot of darkness in your room because that will affect consistency. You wanna make sure that there's no blinking lights, the windows are closed.
You also want coolness because there's research about your, your bedroom temperature. Just keeping your body in that nice consistent sleep space when there's consistent coolness versus the temperature going up and down. So you can create that with your thermostat in your space. Also, removing clutter. A study from the a sleep conference in two in 2015 in Seattle found that if there was a lot of clutter in your room, you it made you more likely to have a sleep disorder. So I like a very simple bedroom. We have OFFWHITE sheets off-white bedding, we have a, you know, a couple plants and there's toys <laugh>, but other than that I just remove so much. There's, you know, extra clothes and books and everything is just out of the bedroom. Very simple, very dark. We have blue, um, uh, light blocking shades and so I sleep really well in that room and I think that's really great.
Some other practices I'll mention to contribute to consistent sleep journaling about an hour before bed. This is something that Dr. Michael Breus mentioned, just to help offload thoughts from your mind so that you can sleep without that, you know, insomnia, thoughts coming out, What if I forget this or what am I gonna do about that? Also, big fan of warm elixir, again, about an hour before bed so you're not peeing all through the night, but just to really settle your body. It's really nice to meditate in the evening just to recenter. Check out some of our free meditations on the app on the website. Take a nice warm bath. Avoiding screens as much as possible is also really important. So we're all gonna check our phones a little bit, but if you can turn off the TV a little bit more if you're gonna, you know, if you are gonna keep it on wear, bl blue light blocking glasses, all of this contributes so much to consistency.
And then also, and finally just really making the decision, Hey, I'm going to really make it my goal to go to bed at 10 every, every night or nine 30 or 10 30, whatever it is. Just really working towards that as a goal, even if it's not perfect progress, not perfection. Intention is really great here as well. Very powerful. So hope this gave you some inspiration and consistent sleep. Please check out the show notes if you wanna take a look at it visually. Also, um, links to other research articles, podcasts, recipes, meditations that I think you would enjoy. Please keep the questions coming as well. Always listening, always wondering how we can more support you. I'm so grateful for you and being part of
Our, our community. So thank you so much for being here. Thank you for being in the community. I appreciate you so much. So sending you so much love, so much gratitude. Have a beautiful rest of your day. See you back here Monday for our next interview podcast. So much love. Namaste.