Warming Nutmeg and Cherry Smoothie Recipe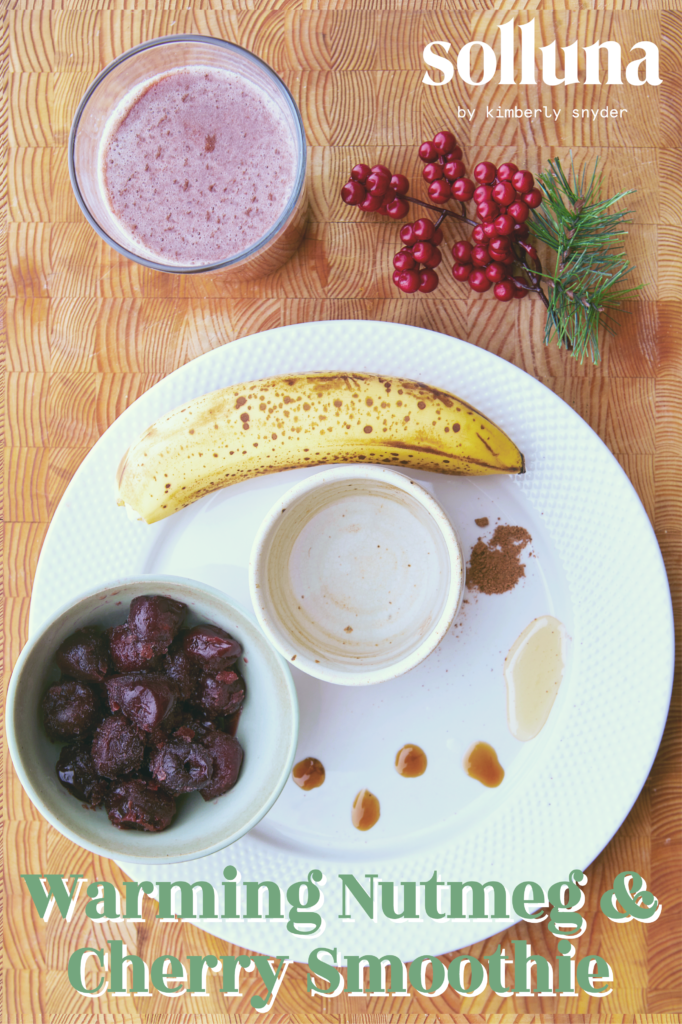 You might think of smoothies as a warm-weather beverage, best enjoyed in the summer heat or the warmth of spring. But you can— and I recommend you do— enjoy healthy smoothies year-round! Smoothies made from warming foods, like my nutmeg and cherry smoothie, can help keep you feeling warm and cozy even in the dead of winter.
This wonderfully warming nutmeg and cherry smoothie is packed with antioxidants, vitamins, minerals, and of course, all the cherry flavor you crave. The nutmeg adds an interesting twist to this cherry-licious smoothie, bringing a wonderfully warm and nutty flavor to your healthy smoothie.
Ready to make your smoothie?! You can skip ahead and go directly to my new nutmeg cherry smoothie recipe.
The Health Benefits of Cherries
Beauty, I LOVE cherries. I always do a little happy dance the first time I see in-season organic cherries for sale at the market. And whether you prefer sweet cherries or tart cherries, they're all delicious, nutritious, and sooooo good for you!
Cherries are an excellent source of dietary fiber, vitamin C, and potassium. Fiber helps keep your digestion regular, and vitamin C is essential for a healthy immune system. Potassium helps maintain many vital bodily processes like regulating your blood pressure and maintaining healthy nerve function.
Cherries are also rich in antioxidants and anti-inflammatory compounds that can help protect your body against oxidative stress, which can make you sick and even cause premature aging! They're also a great source of polyphenols— plant compounds that protect your body's cells and may help protect you against health problems like heart disease and diabetes. [1]
So all these health benefits are really the cherry on top of this delicious stone fruit! :)
Can't Sleep? Try Cherries
All cherries, but especially tart cherries contain melatonin, the natural hormone that regulates your sleep cycle.
Studies have found that drinking tart cherry juice can help improve your sleep quality. One study from the European Journal of Nutrition found that participants who drank dark tart cherry juice for 7 days experienced increased melatonin levels, better sleep quality, and slept longer than those who took a placebo. [2]
It's important to note here that these studies use concentrated cherry products rather than fresh cherries, so it's not known whether they'd have the same effect.
But I never need a specific reason to enjoy more cherries! So if you're having sleep problems, adding more cherries to your diet definitely couldn't hurt.
Nutty, Nutritious Nutmeg
Nutmeg is most often found as a ground spice, but it can also be found in its whole-seed form with the rest of the spices in your local grocery store. Nutmeg is one of many warming spices that can warm you up from the inside out on a cold winter's day.
And not only is it comforting, delicious and warm, but consuming nutmeg can provide your body with a lot of wonderful benefits.
Just a few of nutmeg's benefits include:
High antioxidant levels to help your body fight off harmful free radicals

Compounds called monoterpenes that fight inflammation in the body

Antibacterial properties that may help protect you from harmful bacteria like E. coli, or those that can harm your dental health

Nutmeg extract may help boost your libido (although more research is needed to learn how).
Three Cheers for Cherries!
The cold weather shouldn't prevent you from enjoying delicious and healthy smoothies all year round. And with this warming nutmeg and cherry smoothie recipe, you can enjoy the cozy flavors of the season, even if Jack Frost is nipping at your nose.
If you try this recipe, make sure to tag me on Instagram so I can see your unique creation! If there are cherry lovers in your family or friend groups, don't forget to share this recipe on Pinterest too. :)
With love and holiday cheer,

Warming Nutmeg & Cherry Smoothie Recipe
Ingredients
1

cup

cherries

(frozen cherries will work in a pinch)

½

cup

coconut water

¼

tsp

vanilla extract

1

banana

(You can use a frozen banana for a thicker smoothie)

¼

tsp

nutmeg

Drizzle of honey, maple syrup, or your sweetener of choice
Instructions
Blend all ingredients together and enjoy! I like using my Vitamix blender for this.
More Charming Cherry Recipes
Cherries have such a wonderfully sweet and comforting flavor that helps you feel wonderful inside and out. Check out five more of my favorite recipes that put this amazing stone fruit in the spotlight!
Citations
"Tart Cherries May Reduce Factors Associated with Heart Disease and Diabetes."

ScienceDaily

, University of Michigan Health System, 10 Apr. 2008, www.sciencedaily.com/releases/2008/04/080407114647.htm.

Howatson, Glyn, et al. "Effect of Tart Cherry Juice (Prunus Cerasus) on Melatonin Levels and Enhanced Sleep Quality."

U.S. National Library of Medicine

, European Journal of Nutrition, 30 Oct. 2011, pubmed.ncbi.nlm.nih.gov/22038497/.