My Favorite Weight Loss Smoothies! 11 Nutritious Recipes to Help You Feel Your Best This Summer
As the temperature rises and summer approaches, many of us are motivated to shed a few extra pounds and feel our best in the warmer months. That's why I'm excited to share with you my favorite weight loss smoothies that are not only delicious but also packed with the nutrients your body craves. These smoothies are specifically designed to support your weight loss journey while keeping you nourished, satisfied, and full of energy.
The beauty of these smoothies lies in their simplicity and versatility. They are crafted using whole, plant-based ingredients that are rich in fiber, vitamins, minerals, and antioxidants. By incorporating these smoothies into your daily routine, you'll be providing your body with the vital nutrients it needs to thrive, while naturally promoting weight loss and boosting your metabolism.
These summer weight loss smoothies are not about deprivation or restrictive diets. Instead, they focus on nourishing your body with the right combination of ingredients that will keep you feeling satiated and curb unhealthy cravings. By replacing a meal or snack with one of these smoothies, you'll be fueling yourself with wholesome goodness, supporting your weight loss goals, and enjoying the refreshing flavors of summer.
Remember, weight loss is a journey that should be approached with patience, self-love, and a commitment to making sustainable lifestyle changes. These smoothies are just one tool in your arsenal, and when combined with a balanced diet and regular exercise, they can contribute to your overall success. So, let's dive in, blend up some goodness, and embrace a vibrant, healthy summer ahead!
So without further ado, here are my 11 favorite weight loss smoothies, just in time for summer.
The Glowing Green Smoothie®
No list of healthy smoothies is complete without my all-time favorite Glowing Green Smoothie® (GGS) recipe! I always start my day with the GGS. And if the GGS is new to your ears, let me help you open your eyes to a life-altering staple!
The Glowing Green Smoothie® is unlike other green smoothies that are actually packed with added sugar and other sneaky ingredients. The GGS' unique recipe is packed with vitamins, minerals, antioxidants, fiber, high-quality amino acids (which build protein), and countless other phytonutrients that work synergistically to prevent and repair damage in your body and boost rejuvenation. 
As a result, you'll feel an amazing energy boost and see enhancements to your overall beauty, all while helping manage your weight. So you look and feel like your most amazing self! 
There are countless ways to make and enjoy your GGS. As long as you stick to the basics— water, 70% greens and 30% fruit— you really can't go wrong. Keep it simple to get the best weight loss benefits with every sip! :)
Carrot Grapefruit Weight Loss Smoothie
Looking for a cleansing weight loss smoothie that's as beautiful as it is delicious? My Carrot Grapefruit Weight Loss Smoothie will help give you a beautiful glow while keeping you nourished, hydrated and satisfied.
Grapefruit gives this smoothie a wonderful zing while supporting your immune system and detoxing your body. Like grapefruit, carrots are also amazing for keeping your body healthy and cleansing out those toxins. 
Last, but certainly not least, we have chia seeds— the secret champion of this smoothie! Rich in fiber, fatty acids and other vital nutrients, chia seeds help keep you fuller for longer while cleansing your body of toxins and waste.
Vitality Smoothie
Need a little boost? Let me introduce to you my Vitality Smoothie recipe. 
It is loaded with beauty greens – kale, spinach, celery, and cilantro. These fibrous plants provide excellent support to your body's natural detoxification system. I also add banana to this recipe as it works so effortlessly with the greens to help maintain regular bowel movements. When we can easily flush our bodies of old waste and toxins, we can also let go of that unwanted weight and belly fat.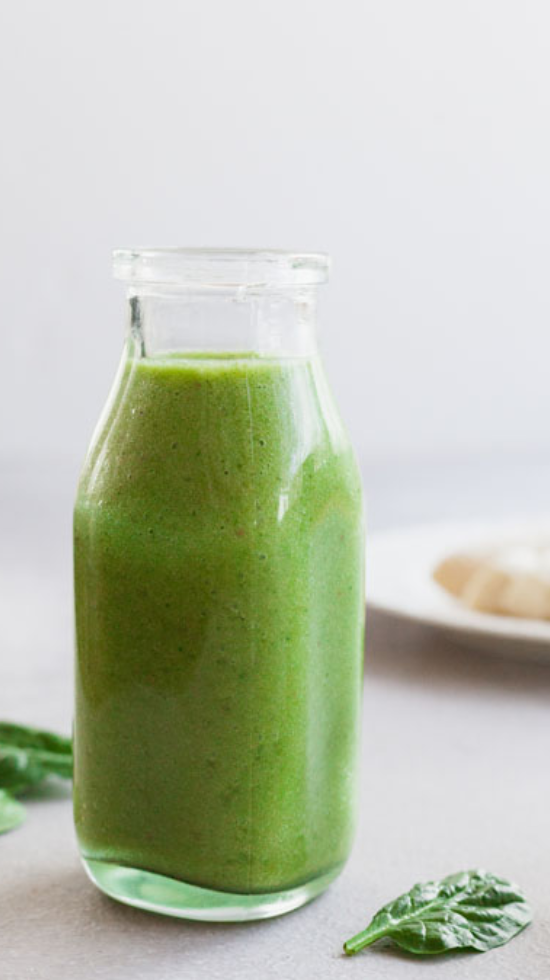 Aloe Vera Cleansing Smoothie
Aloe vera is well-known for its medicinal properties, but recently it's been a popular ingredient for weight loss too. Aloe vera is a powerful cleansing agent, and that makes it a perfect addition for anyone seeking support on their weight loss journey.
That's why I created my Aloe Vera Cleansing Smoothie.
Aloe vera juice's high water content can both hydrate you and help stimulate healthy elimination. This, in turn, helps relieve the body of excess toxins, including fats and salts that our bodies like to hold onto. 
Combine this with the cleansing powers of spinach, banana, pineapple, detoxifying green tea, and a little date for sweetness, and you have yourself one of the best weight loss smoothie recipes around!
Spicy Citrus & Cranberry Blast
Want a powerful weight loss smoothie recipe filled with zesty flavor? Say hello to your new favorite powerhouse smoothie!
The lemon in my Spicy Citrus & Cranberry Blast helps protect your body from damaging free radicals that can make you sick. In fact, drinking lemon water helps stimulate the liver and flush toxins from your body. Who ever wants to hold onto those toxins? No thank you! 
The cranberries in this smoothie are a natural diuretic. This humble berry can actually help increase kidney function and quickly push excess water weight out of the body. 
We all hold on to water weight, but sometimes we hold on to more than we really need. When we release water from our systems, our bodies become leaner. And when our bodies become leaner, we might find we're hitting our ideal weight!
Apple Kiwi Pineapple Smoothie
Not all fruit smoothies are created equal. Many fruit smoothies are crammed with added sugar and unnecessary dairy, while also being stripped of all their amazing benefits, like their natural fiber content. 
Do you know that eating more fiber can help you lose weight? One study suggests that people who eat just 30 grams of fiber daily lose more weight. They also have smaller waist circumferences. [1]
So what does this have to do with fruit smoothies? That's where this healthy smoothie recipe comes in. ;)
My Apple Kiwi Pineapple Smoothie will help you meet your daily fiber needs in no time! With the combination of apple, kiwi and pineapple, you can easily get 1/3 of your daily fiber intake in this one smoothie alone. 
Don't forget: getting enough fiber is vital for healthy weight loss. By including fibrous produce in your diet, you'll stay satisfied longer and crave junk food less.
Spicy Carrot Mango Smoothie
If you're looking for the best weight loss smoothie recipe that isn't green, I've got the one for you! Enter my Spicy Carrot Mango Smoothie recipe. It is a delicious combination of fibrous and vitamin C-boosting carrots and mango. By now you understand the importance of fiber with weight loss, but what about vitamin C?
According to a study published in Nutrition & Metabolism, having enough vitamin C in your diet is key for weight loss— especially when you exercise. The study found that the participants with lower-than-optimal vitamin C levels burned 25 percent less fat during exercise than those with normal levels. By simply increasing their vitamin C intake to normal levels, those participants were able to increase their weight loss during exercise. [2]
Conveniently, both carrots and mango help boost your intake of vitamin C! ;)
Dandelion Detox Smoothie
If you are looking for a healthy smoothie that will leave you feeling clean and light, you'll love my Dandelion Detox Smoothie. Dandelion greens have been used for detoxification for centuries. Native American, Chinese and Arabic cultures have long used dandelion greens as a powerful healer for problems in the liver and gallbladder.
Pair dandelion greens with sweet pear, creamy banana, and zingy ginger and enjoy all that it has to offer. Combining dandelion greens and ginger really helps to improve digestion and encourages natural detoxification. 
When your digestion is optimal, your body's nutrient absorption and waste removal improve as well!
Sweet Beet Smoothie
My Sweet Beet Smoothie Recipe is an amazing weight loss smoothie that can boost your energy and detoxification. 
Whether you currently love beets or are new to their delicious earthy flavor, beets are a great natural way to detox your system. They are packed with vital nutrients and fiber, detoxifying your liver and your digestive tract. In other words, beets get the gunk out and help shed those unwanted pounds!
This smoothie also offers a major supply of energy. Beets also help bring more oxygen into your system; more oxygen means more energy. And more energy means you've got the drive to move your body and burn off more calories! 
Just ask any endurance athlete— many of them use beets to fuel themselves for 2-hour plus workouts. Yikes! But who can blame them? When you fuel yourself with health-boosting nutrients like beets it's amazing what your body can do!
Grapefruit Thirst Quencher Smoothie
My Grapefruit Thirst Quencher Smoothie is an excellent cleanser. It is sweet, tangy, and is a satisfying addition to your weight loss journey. Grapefruit contains phytonutrients called limonoids, which help promote the formation of a detoxifying enzyme called glutathione-S-transferase. So what does this technical-sounding name mean for us?
It means your liver is getting a boost in removing toxins in a more water-soluble form. This ultimately makes it easier to remove built-up waste. The more toxin-free we are, the more healthy and beautiful we will be!
Super Sprout & Mango Green Smoothie
Another one of my best weight loss smoothies is my Super Sprout & Mango Green Smoothie. Have you tried it yet? If not, it's time! :)
Comprised of simple yet powerful ingredients— mangos, microgreens, spinach, and a banana— this amazing smoothie supports healthy digestion. And ultimately, a healthy digestive system leads to successful weight loss. This smoothie is an excellent source of dietary fiber, which is crucial to regular and safe elimination. Plus it's low in saturated fat, cholesterol, and sodium while also being loaded with vitamin B6, vitamin A, and vitamin C. What a deal! 
With all these nutrients, this recipe can really help you maintain your muscle tone. And did you know that building and maintaining your muscle mass can actually help you reach your weight loss goals?! It's true— it really can!
Turn Your Weight Loss Journey into "Smoothie" Sailing
When it comes to weight loss, what you put into your body is crucial to removing what you want to leave your body. These healthy smoothie recipes are a great start for your weight loss journey, but how you prepare them matters too.
Remember, to put loving energy into the smoothies that you prepare. When you put love and good vibes into your food, your body will thank you, and naturally begin to let go of the excess weight! Don't forget to take your weight loss journey one day at a time too. Your body is your temple, and each day is a new beginning. ❤
If you're looking to get your weight loss journey to a productive start, check out my 30 Day Roadmap to Healthy Weight Loss course! This roadmap can help you cut through the noise of weight loss fads and yo-yo dieting, and help you achieve and maintain your weight loss goal. 
Need to start detoxifying your body? My 3 Day Waterfall Cleanse can help you get started towards all-new vitality and energy!
I hope you truly enjoy these best weight loss smoothies I've created for you, Beauty. If you try any of these recipes, tag me on Instagram so I can see your creations! Don't forget to pin these recipes to your Pinterest boards too!
Lots of love,

Citations
Ma, Yunsheng, et al. "Single-Component Versus Multicomponent Dietary Goals for the Metabolic Syndrome."

American College of Physicians

, Annals of Internal Medicine, 17 Feb. 2015, www.acpjournals.org/doi/10.7326/M14-0611?articleid=2118594.

Johnston, Carol S, et al. "Marginal Vitamin C Status Is Associated with Reduced Fat Oxidation during Submaximal Exercise in Young Adults."

U.S. National Library of Medicine

, Nutrition & Metabolism, 31 Aug. 2006, www.ncbi.nlm.nih.gov/pmc/articles/PMC1564400/.