Raw Asian Carrot Avocado Salad Recipe
Today's recipe, Raw Asian Carrot Avocado Salad, is a great accompaniment to any social gathering or event you have planned for this summer. It's also great to munch on at home or to pack for work. This dish is packed with beauty nutrients with an Asian flair.
And one of the best things about it? The crunch! Texture is important with foods as it makes it more satisfying. This crunchy salad will hold well for packing, and give your jaw a workout as you fill up on cleansing fiber-filled veggies :).
So what's so great about the main ingredient?
Carrots
This bright colored orange root contains high amounts of Vitamin A, in the form of beta-carotene, and as you may have heard over the years, is great for your eyesight. Carrots also have the ability to increase the health of your skin— reducing the signs of premature aging.
The lovely and powerful carrot also boosts your immune system, improves digestion, detoxifies the body (which we all have to put effort into doing on an ongoing basis!) and boosts oral health. They also provide a variety of other vitamins, minerals and phytonutrients.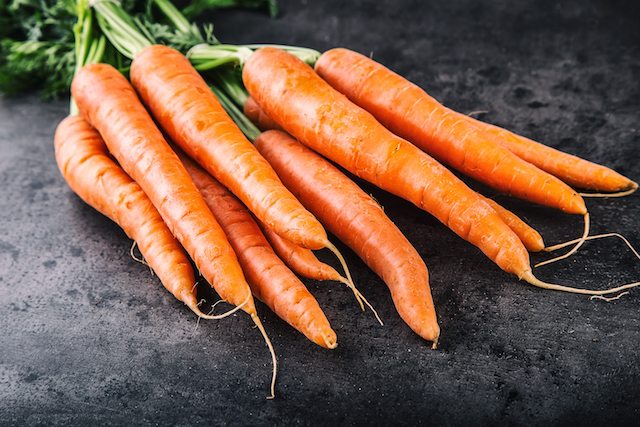 Because carrots grow relatively easily and are very versatile in a number of dishes, they tend to be one of the most widely used and enjoyed vegetables in the world. They are typically orange in color, but there are a variety of colors to incorporate whenever you spy them— including purple, white, yellow, and red.
Most of us (and that includes our little ones), like the crunchy texture and sweet taste, which makes this fibrous veggie a great way to take the edge off hunger, while providing tons of nutrients.
Avocados
Avocados are Mother Nature's creamy gift to all of us! Avocados contain vitamins A, C, E, and K and are full of antioxidants that help protect your skin from any environmental damage.
Some of the health benefits of avocado include improving digestive health (a must for beauty!), skin care and dental care. It's also a great food to mash up for our growing babies (Lil Bub will surely be eating this on a regular basis!).
Avocado is a great whole food beauty fat that contains water and fiber to help control portion size. Its raw, monounsaturated fats gives your skin a youthful, beautiful appearance, moisturizing from the inside out. Unlike oil, which is liquid and easy to overdo, leading to weight gain, avocados digest easily and are much filling, again, due to their high water and fiber content.
Even though avocados are a "good" raw plant fat, remember that all fat should be eaten in moderation. Half of a large/medium avocado or one small one a day is enough. I also recommend avoiding hard nuts, or skipping them altogether when you are eating avocado— as the combination can be too heavy and dense in fat. Some seeds, as in the hemp seeds in recipe, are okay to combine as they tend to be less dense upon digestion as harder nuts.
There are several ways you can use avocados, from snacks, blended into dressings in lieu of oils to full meals (including smoothies), or as a highlight to any dish.
Let's get into THIS dish at the moment though!
With all this talk about keeping our bodies healthy from our sight to our skin, let's not waste anymore time Beauties-  get dicing and reap the benefits! ;)
Check out the full recipe below…
Raw Asian Carrot Avocado Salad Recipe
Ingredients
Dressing:

1

Tbs.

sesame seed oil

1

Tbs.

olive oil

3

Tbs.

lime juice

2

Tbs.

raw apple cider vinegar

1 ½

teaspoons.

fresh ginger

minced

1

Tbs.

ground coriander

1

Tbs.

coconut nectar or maple syrup

For the salad

4

cups

grated carrots

1

cup

cilantro

chopped

1

cup

parsley

chopped

½

cup

chopped scallion

1/4

cup

raw sesame seeds

black preferred, plus extra for topping

3

Tbs.

hemp seeds

plus extra for topping

1

medium avocado

diced
Instructions
Blend all the dressing ingredients together and set to the side.

Toss all the salad ingredients together in a large bowl, except for the avocado. Pour the dressing over, and mix very well.

Finally, add in the avocado, do one more gentle toss, then add some additional sesame and hemp seeds on top of the salad before serving.
Try making this for your next outing and let me know how it goes! (#beautydetoxrecipe)
In love and health,
Kimberly and Lil Bub
Save
Save
Save
Save