Ayurvedic Golden Milk Latte Recipe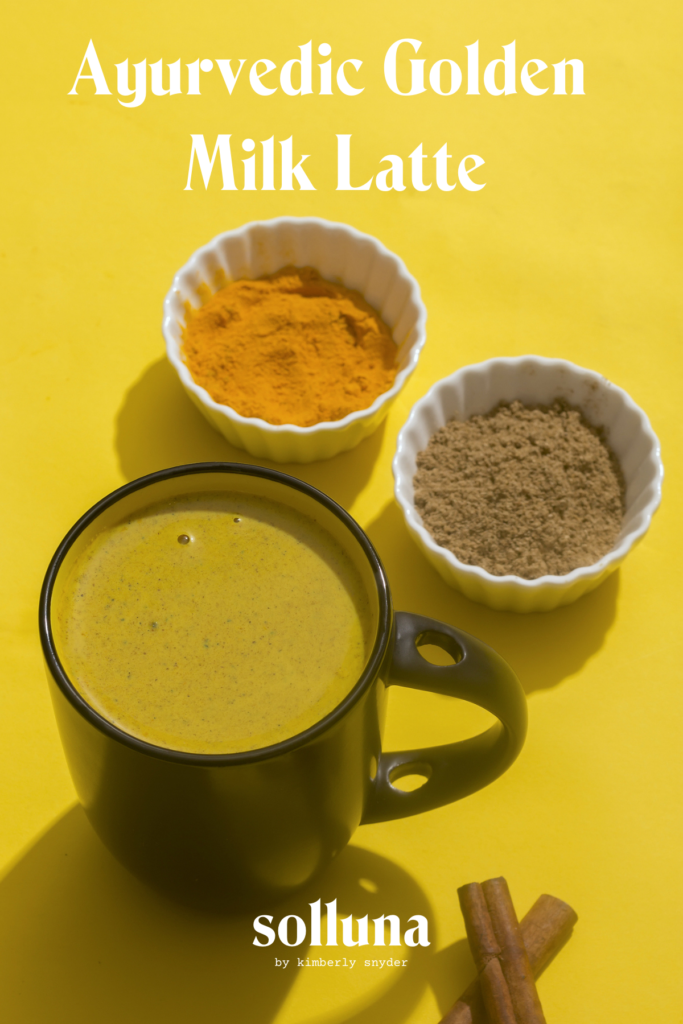 How many of you Beauties look forward to pumpkin spice latte season? It's hard to underestimate the pumpkin spice latte's popularity— after summer, it's absolutely everywhere! For many it's the taste of fall, and is a major source of comfort as the days get shorter and the weather gets colder.
It's true that a warm drink is amazing for those chilly fall and winter days, bringing us warmth and comfort as we spend more time inside. But Beauties, what if I told you that there's another drink out there that has the beautiful warming properties of the pumpkin spice latte, but without the caffeine, extra fat and added sugar you get from the coffee shops?
Have I piqued your interest yet? :) If so, then you'll love this Ayurvedic golden milk latte recipe. This fast, easy, and healthy plant-based beverage is so comforting that you can enjoy it year-round— plus, it's amazing for your skin, digestion, and brain! What's not to love?
What is Golden Milk?
Golden milk, also called turmeric milk or haldi ka doodh, is an ancient Ayurvedic drink that's been around for hundreds, if not thousands of years. Traditionally golden milk is made by warming up cow's milk and mixing it with a warming spice blend, like turmeric, ginger, and cinnamon. But like with any recipe nowadays, you can easily make this by using non-dairy milk; adding in whichever spices you'd like in addition to the turmeric!
Is Golden Milk Good for You?
Golden milk is so amazing for you! Thanks to the spices in the drink— like turmeric— it is full of amazing health benefits that can help you feel beautiful inside and out. Some of these include:
Being loaded with antioxidants that can help protect your body from disease and other free radicals that can harm your health.

The spices help to reduce inflammation throughout your body, which can keep your joints pain-free.

Golden milk helps aid your digestion and keep your body free of toxins.

Dairy free golden milk is amazing at stabilizing fat and providing your body with all of the health benefits of milk— such as essential vitamins and minerals like calcium to increase bone health— without all of the unpleasant side effects of drinking regular milk. More on those below.

It can boost your brain health, elevate your mood, and help keep your mind focused.
My favorite benefit of golden milk is that it helps bring presence into your body, which can help assist you into meditation and mindfulness. The warm, comforting spices can help you feel more in tune and at peace with yourself, while also strengthening your vitality and supporting your mind and emotions.
Golden Milk for Sleep
If you enjoy a warm glass of milk to help you sleep, then I think you'll like this even better. Golden milk promotes relaxation and helps you fall asleep easier. This is because it contains lots of compounds and amino acids— such as tryptophan— which are beneficial for getting a good night's sleep.
I recommend drinking your golden milk latte 1 to 2 hours before bed— that way you have plenty of time to unwind, relax, and enjoy. :) I love drinking mine before my nightly meditation because it helps me feel more centered and present within my body and mind.
Plant-Based Milk: Milk Without the Side Effects
Like I mentioned before, golden milk is traditionally made with cow's milk, but you can enhance this ancient recipe even more by using plant-based or dairy-free milk. If you've been part of the Solluna community or a member of my Solluna Circle for a while, then you already know that animal milk isn't nearly as good for you as you may hear.
Dairy milk is often advertised as a great source of important minerals like calcium for bone health. But this claim that cow's dairy increases bone health and can help prevent osteoporosis is actually false! In reality, dairy milk can actually hurt your bone health by creating an acid imbalance in your body, which can lead to calcium loss. This may actually increase your chances of getting osteoporosis.
Not only that, but dairy includes other significant drawbacks like acne, bloating, and lots of mucus production after you eat or drink it. Yuck!
Thankfully, plant-based milk can give your body all the benefits you expect from dairy milk, but without the unpleasant side effects. But if you're new to the world of dairy-free milk, you may be wondering: "What is the best plant based milk?"
There are so many varieties out there, it's hard to list them all. But here are just a few alternatives to cow's milk:
Oat milk

Hemp milk

Nut milk— like cashew milk, hazelnut milk, or unsweetened almond milk

Soy milk

Coconut milk

Quinoa milk
I recommend using hemp milk in this recipe, but use whatever works best for you, Beauty. :) 
One of the great things about plant-based milk is that it can be made from so many different things, which is amazing for all you Beauties with food allergies. Have a soy allergy, or just avoiding soy? Try one of the many kinds of nut milk. Have a nut allergy? Try oat milk.
There are always options available with plant-based milks— and they're all excellent alternatives to dairy.
What are Warming Spices?
In Ayurveda, food can be considered warming or cooling based on the nature of the food and its effect on your digestion system. Ritucharya, or the concept of adapting your lifestyle to the seasons, encourages you to eat seasonal produce and to consume the right foods for the right seasons. As fall and winter approach, this means you'll want to think about warming foods. A few warming foods include carrots, yams, nuts, dates, figs, and raisins.
But where does this figure into your golden milk latte? There are a number of spices that are considered warm spices in Ayurveda. These are what you want to put in your latte. They include:
Turmeric

Cinnamon

Ginger

Nutmeg

Cloves

Chilis

Black peppercorns

Coriander

Cardamom
These warming spices can keep you nice and cozy while also increasing circulation in your body. The better your circulation is, the easier it is for oxygen and nutrients to travel through your body.
You don't have to wait until the weather gets cold to enjoy the warming effects of these wonderful foods though— they all can and should be enjoyed year-round!
Should I Use Fresh or Dried Spices?
Is it better to use fresh spices or dried spices in your latte? Since I recommend blending your drink after you mix everything together, either will work for this recipe. There are a few things you need to keep in mind though. Here are some of my suggestions:
Fresh turmeric or turmeric powder: You can whisk turmeric paste into your mixture, but turmeric powder is more concentrated. You'll want to add more turmeric paste into your mix if you go with the fresh spice.

Fresh ginger or ground ginger: If you use fresh ginger, try putting it through a fine mesh strainer to make it nice and creamy and keep any large chunks out of your mix.

Ground cinnamon or a cinnamon stick: There isn't much of a difference here. Add the cinnamon stick or the ground cinnamon while you warm everything up. Just remember to remove the stick before you add everything into the blender.
There's no right or wrong way to enjoy this comforting drink as long as you keep the basics in mind. Each and every Beauty is unique, and so too are the ways you can enjoy this drink.
I hope I've convinced you to give this one a try! Who knows, maybe you'll love it even more than the pumpkin spice latte. :) Although, if you're craving something pumpkin, you can always try my Spiced Pumpkin "Milkshake" Smoothie recipe.
After you take the first sip of your Golden Milk Latte, snap a pic, and share with others what you think of it! Of course, make sure to tag me on Instagram so I can see how you enjoy your golden milk lattes! Also, if you're on Pinterest, be sure to pin this to your boards so you can share this recipe with your latte-loving friends and family.
Lots of Love,
Ayurvedic Golden Milk Latte Recipe
Ingredients
1

cup

hemp milk— Any plant based milk will work though

2

tsp

sweetener of your choice— I recommend coconut nectar

honey, or maple syrup

1

tbsp

coconut oil

1/4

tsp

turmeric

1/4

tsp

cinnamon

1/8

tsp

ginger

Pinch

of Himalayan salt

Pinch

of black pepper
Instructions
Warm the organic hemp milk in a small pot over low heat until it reaches a slight boil.

Add all ingredients to the pot with the hemp milk and then pour into a blender and blend for a few seconds on high.

Pour into a mug and enjoy this warming tonic!
More Wonderfully Warming Recipes
Warming recipes like this can— and should!— be enjoyed year-round, since they can make you feel nice and cozy inside while they boost your metabolism and help your skin glow. Here are a few more of my favorite warming recipes— from beverages, to smoothies, to main courses!