All Things Smoothie: My Favorite Smoothie Recipes + Your Questions Answered!
There's nothing like a good smoothie, Beauty. Not only are they cool and refreshing on a warm day, but they're an amazing beauty food that can boost your energy and help you feel vibrant and healthy both inside and out.
Over the years, I've been asked a lot of smoothie questions. So I want to answer some of the most commonly asked questions and share my favorite smoothie recipes (including smoothie bowl recipes).
The Health Benefits of Smoothies
To begin, I want to reinforce that smoothies and juices are not the same thing. While they're often made of the same components— fresh fruit and vegetables— smoothies have a major advantage over juice— fiber!
Juicing removes vital fiber. Blending keeps all the fiber where it should be, in your smoothie! 
Only 3% of Americans consume the daily recommended amount of fiber, and yet it's an essential nutrient for your health and beauty. 
Fiber is only found in plants, and since smoothies are made up of LOTS of plants you're getting lots of fiber. Added bonus, plants provide micronutrients and phytonutrients that your body needs, and they work together synergistically, just like antioxidants, vitamins and minerals do.
Fiber also helps keep your digestion regular, helps move toxins out of your system, and keeps you full so you don't have to eat as much throughout the day. 
Possibly most importantly though, your gut microbes feed off fiber from whole foods! Those microbes then transform that fiber into short-chain fatty acids which can heal your gut according to Dr. Will Bulsiewicz, an award-winning gastroenterologist and author of Fiber Fueled. You can learn more about how to boost your gut health by tuning into my latest interview with Dr. B.
When you're blending your next smoothie, think about all of the fiber, key vitamins and nutrients you're introducing into your (and your family's) body that will help you stay healthy, whole, and strong. 
And the beautiful thing about smoothies is that the sky is the limit with what flavors you can create! There's truly something out there perfect for everyone. So even if you don't think you like smoothies, maybe you just haven't blended the right combination of delicious plant foods yet. :)
Beware— Not All Smoothies Are Created Equal
It may be tempting to go out to the closest smoothie place and order one to go, but be careful Beauty! A lot of smoothies aren't nearly as good for you as they're advertised to be. [1]
It seems like everyone has gotten on the smoothie bandwagon which is why you can order a smoothie from Baskin Robbins or places like Jamba Juice and Smoothie King. But many of those smoothies are packed with a lot of added sugar! And many are full of dairy or additional ingredients you don't want. 
If you want the best and healthiest smoothies, you should make them yourself. Don't worry though— they're so easy to make!
Your Smoothie Questions Answered
The internet is full of questions about smoothies. Many of you Beauties have asked me these same questions! So here are answers to some of your most asked smoothie questions.
Can a Smoothie Replace Meals?
I do like to start my day with my Glowing Green Smoothie® (GGS). This is a non-negotiable part of my morning routine. That's often all I need because it's full of fiber and has a wider assortment of nutrients than the "traditional" breakfasts many people eat. 
Green juices, without the fiber of a green smoothie, are definitely not a meal replacement because there's no fiber which means you'll be hungry in no time!
With the exception of the GGS— which is an energizing and refreshing way to "break your fast" and begin the day— smoothies can be enjoyed as a snack to tide you over between lunch and dinner or during lunchtime. My Power Protein Smoothie is my main go-to for an in-between meals snack.
Can Smoothies Be Stored Overnight?
Yes! I encourage you to premake and store your smoothie in the fridge overnight. I'll use the GGS as an example again. When I prepare my GGS, I make it in a big batch. With these big batches, I can either share it with family or keep it in the fridge for the next day (or two).
When covered, your smoothies should keep in the fridge for about two and a half days. Of course, that's if they last that long without being eaten. :)
Can Smoothies be Frozen for Future Use?
Technically yes— but I think that smoothies are best consumed fresh, or within a few days of when you made them.
However, in our perfectly imperfect lives, we're always busy and on the go. Especially with the Mom Life! If you need to make some smoothies in advance and freeze them, that's okay. Better than no smoothies at all. :)
What's the Best Smoothie to Drink During a Day Where Fasting is Required?
This is a great question— especially for our Beauties that celebrate Ramadan. Ramadan is the holy month of fasting in the Muslim calendar. During Ramadan, you fast from sunrise to sunset— only eating predawn, and at night.
Some may also need to fast for medical reasons— but don't worry. There are smoothies that can help keep you energized all day long, even if you need to fast.
My two recommendations are my Glowing Green Smoothie® (GGS) — of course :)— and my Power Protein Smoothie. Made with unsweetened almond milk, plant-based protein powder and chia seeds, this smoothie will keep you going strong throughout the day thanks to the protein and healthy fat inside. I'd also add some sprouts to it so that it has that raw green element too.
Related: Four Cornerstone Tips to Support Your Overall Health and Wellness
Are Smoothie Bowls Healthy?
Remember— not all smoothies are created equal. It's the same with smoothie bowls. Just because the smoothie shops say they're healthy doesn't mean they always are. 
Again, the best way to ensure that your smoothie bowl has everything you need— and nothing you don't— is to make it yourself.
What's the Difference Between Smoothies and Smoothie Bowls?
Smoothie bowls are essentially really thick smoothies— or even like soft serve or frozen yogurt. Instead of drinking them like you would a regular smoothie, you eat these with a spoon!
You can even add toppings to smoothie bowls. I like adding banana, coconut, or a sprinkling of something like cacao or coconut cream to mine!
Are Smoothies Good for Weight Loss?
They can be— as long as you drink the right ones. Again, for best results you'll want to make your own smoothies for this. That way you avoid all the added sugar or undesirable ingredients that lurk in other smoothies!
For this same reason, I encourage you to make your smoothie bowls at home too. Just remember that it can be tempting to go overboard with smoothie bowl toppings. If you're eating smoothies for weight loss specifically it's easy to eat too many of these things and it can slow down your progress. 
You can find dozens of recipes for healthy smoothies (and smoothie bowls) on the Solluna website. All of them can help you on your journey to better health, but if you're looking for smoothies specifically for weight loss, check out my round-up of my best weight loss smoothie recipes!
When's the Best Time to Drink Smoothies?
Remember what I said earlier— smoothies are best enjoyed as a snack or with your lunch. Also, remember to enjoy your smoothies on an empty stomach.
The exception here is the GGS— I enjoy those each morning after I drink my hot water with lemon.
Which Smoothie Maker is the Best?
The best way to make smoothies is with a strong high-powered blender. I love and have used Vitamix for years. I personally recommend Vitamix blenders, because they're powerful enough to blend a lot more than smoothies— they're also great for making soups, nut milk and more!
The right blender will make blending your smoothies quick and easy. And with the Vitamix blender's large container, you can make large batches of your favorite smoothies to either share with friends or enjoy yourself. Both are great. :)
My Favorite Smoothie Recipes!
Over the years I've shared a lot of smoothie recipes with you, but here are some of my favorite smoothie recipes I think you'll fall in love with too! 
Glowing Green Smoothie
®
 (GGS)
You probably knew GGS would be at the top of my list. My Glowing Green Smoothie® (GGS) is packed with fiber, essential vitamins and minerals, amino acids and antioxidants. This makes it a potent health elixir and an amazing beauty food. Not all green smoothies are the same— and none of them are as powerful as the GGS.
Make sure you don't blend your GGS too much— you want to chew this smoothie, rather than drink it right down. Make sure you mix up your greens between batches too! Variety is the spice of life, and the key to getting the most out of your GGS. :)
Orange Mango Creamsicle Smoothie
Everyone seems to love the orange creamsicle smoothie. Maybe because it brings back memories of sipping an Orange Julius at the mall. But you can skip the lines in the food court at the mall along with the unhealthy ingredients and added sugar and make my orange mango creamsicle smoothie instead.
This smoothie has a beautifully creamy texture, and it's loaded with vitamin C, healthy fat and antioxidants. This refreshing and invigorating smoothie can really add an amazing kick to your day!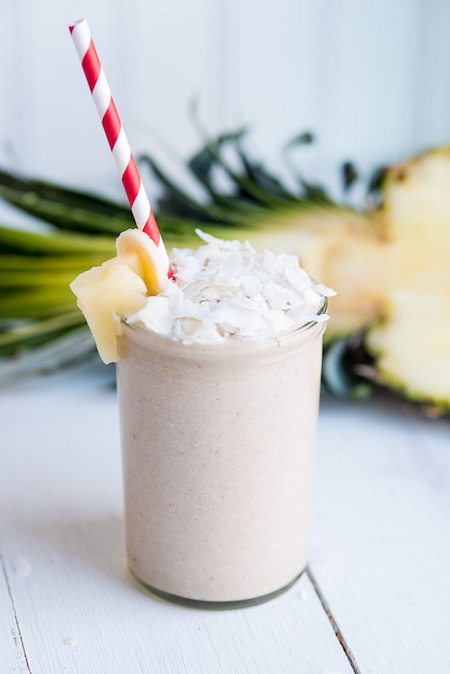 Creamy Pineapple Coconut Smoothie
Give your digestion a tropical boost with my creamy pineapple coconut smoothie recipe! This amazing smoothie is packed with the cleansing power of pineapple and coconut, which will help you feel fantastic throughout the whole day.
Aloe Vera Cleansing Smoothie
Aloe vera is an amazing plant. Not only is the gel excellent for treating burns, scrapes and cuts, but it's amazing for detoxing your body as well. My aloe vera cleansing smoothie is full of amino acids, vitamins, minerals and beneficial enzymes. And thanks to the aloe vera inside, it can help boost your digestion by essentially lubricating your intestines.
So whether you're just starting to detox or have been detoxing for a while, this is the perfect addition to your beauty meal plan!
Zingy Ginger Mango Smoothie
If you want some flavor with a kick, check out my zingy ginger mango smoothie recipe! The combination of ginger and mango creates a sweet but zingy kick to this smoothie. Even better, it's so good for you too!
Just 1 cup of mango provides 100 percent of your day's vitamin C, and 35 percent of your vitamin A. Ginger is also a potent and refreshing source of antioxidants, and it can help boost your digestion and your immunity.
My Favorite Smoothie Bowls
No conversation about smoothies would be complete without talking about smoothie bowls! Here are 5 of my favorite smoothie bowl recipes— make sure you have a spoon handy for these, Beauty! :)
Creamy Banana Cacao Smoothie Bowl
In the mood for ice cream? My creamy banana cacao smoothie bowl will satisfy your sweet tooth without all the added sugar, fat or dairy of ice cream.
Just make sure you use a frozen banana in this recipe— it gives your smoothie bowl an amazing creamy texture that you'll absolutely love!
Ice Blue Smoothie Bowl
Looking for something cool and electrifying as the weather warms up? You'll love my ice blue smoothie bowl!
This blue beauty bowl gets its amazing color from blue spirulina powder— as well as many of its nutrients! Blue spirulina is an amazing source of plant-based protein and antioxidants to help support and nurture your body. Add in the coconut and the cool mint, and you have a refreshing and powerful smoothie bowl for all seasons.
Green Chia & Moringa Smoothie Bowl
Looking for something new? Try my green chia & moringa smoothie bowl! You may be thinking though, "Mor— what?!" Moringa is a healthy "superfood" green packed with vitamins, minerals and enzymes. It's most often found in powdered form. This is perfectly fine— especially if you're like me and haven't been able to grow your own yet. I'm still trying though! :) I've been trying to grow moringa and cacao trees on my farm in Hawaii!
Combined with chia seeds, this superfood smoothie bowl can keep you full and energized all day thanks to its fiber content and protein.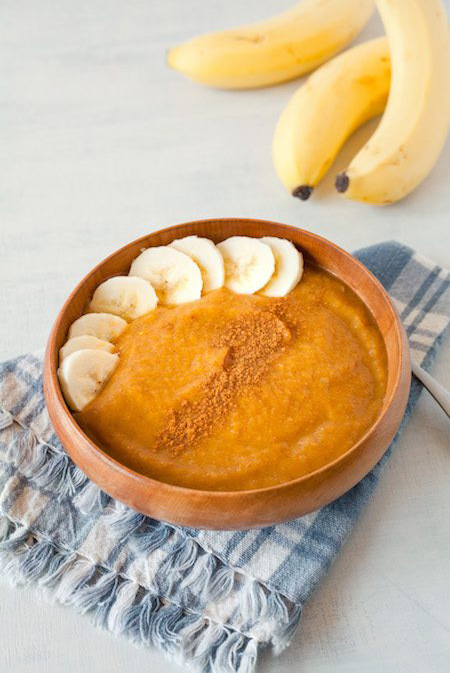 Pumpkin Smoothie Bowl
Pumpkin isn't just for lattes, casseroles or pies! No smoothie bowl list is complete without a smoothie perfectly suited for fall or cooler weather and this recipe is perfect for tapping into fall flavors and incorporating this fall seasonal fruit. 
I give you my pumpkin smoothie bowl. It's full of amazing fiber that fills you up, can help you lose weight, and provides amazing enzymes that can beautify your skin from the inside out.
And thanks to the amino acid tryptophan, it can be a serious mood boost too!
Spiced Persimmon Smoothie Bowl
You may not be familiar with persimmons Beauty, but they're one of my favorite fruits! My spiced persimmon smoothie bowl is full of vitamins, minerals, fiber, and other beneficial compounds that can help keep you healthy, vibrant and regular.
Just remember to use persimmons that are just right as far as ripeness goes.
You can find them at the grocery store, more during the fall and winter seasons— October through January. You want a persimmon that is not hard to the touch, kind of like picking an avocado. Some people like them super soft, but I prefer them somewhere in the middle.
Underripe persimmons don't taste very good at all, and overripe persimmons aren't especially appetizing either. You want them to be soft to the touch and pulpy— then they're perfect. :)
Turn Your Meal Planning into Smoothie Sailing
I hope I've answered your most burning smoothie questions, Beauty! Smoothies are a simple and amazing way to get so many vital nutrients that your body needs. There's a healthy smoothie recipe out there for every taste and flavor. Now go find your favorite, Beauty. :)
If you try any of these recipes, tag me on Instagram so I can see! Make sure you share them with your smoothie-loving family and friends on Pinterest too.
In love and health,
Citations
November 13. "The Unhealthiest Smoothies in America." Eat This, Not That!, 13 Nov. 2020, www.eatthis.com/worst-smoothies/.