50 Vegan Holiday Recipes That Will Make Your Celebrations Even More Joyful
Winter holidays like Thanksgiving and Christmas are wonderful times of the year for us to celebrate with our loved ones and reflect on everything we're thankful for. One of the ways we do this is by gathering around the table and sharing a large and beautiful meal.
I've selected 50 amazing holiday recipes that will wow the dinner table, and leave you feeling warm and at peace inside and out. Whether you're new to a plant-based lifestyle or not, you'll love these amazing, healthy versions of your holiday dinner favorites. 
For many people it's easy to overindulge during the holiday season, potentially leading to holiday weight gain. Many common holiday favorites feel good to eat at first but can lead to bloating and discomfort once the initial joy passes.
But don't worry Beauties, you can still enjoy your favorite Thanksgiving and Christmas recipes the Beauty Detox way! Try some of my favorite recipes this year and you'll hopefully feel lighter, less sleepy, and free from gas, bloating and digestive discomforts too by including recipes without the dairy, meat, sugar, and processed foods commonly eaten during holiday meals. 
Beautiful and Hearty Entrees
Meat dishes like prime rib roast, pork chops, ham, chicken, and especially turkey are major staples of both Thanksgiving and Christmas dinner— but these amazing plant-based entrees might change that at your table! Enjoy the taste of the season with these beautiful plant-based recipes that even meat lovers in the family will enjoy.
Let's start out with a special recipe from my book Recipes For a Perfectly Imperfect Life, the Lentil Love Loaf!
Here is another beautiful entree from my book The Beauty Detox Power: baked broccoli and yam terrine.
Another recipe you might enjoy is also from Recipes For A Perfectly Imperfect Life, my twice-baked rosemary, broccoli, and kale-stuffed sweet potatoes.
More Amazing Entrees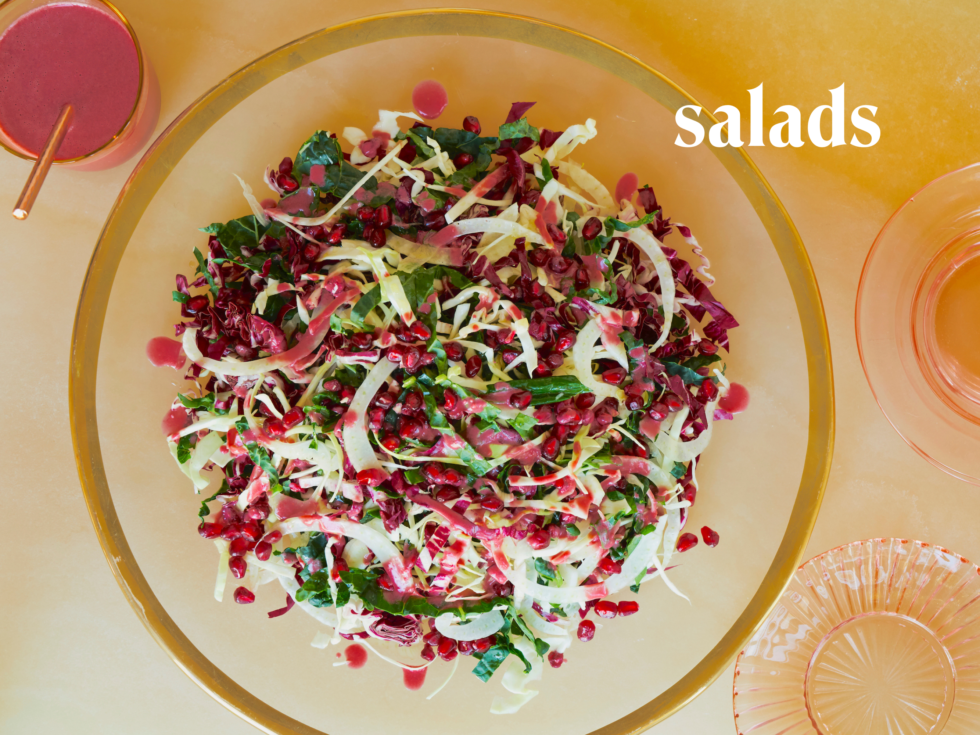 Bright and Refreshing Salads
These beautiful salads will brighten up your holiday meals with a combination of refreshing fruits and bright, fresh greens. These salads include hearty seasonal foods like squash and immune-boosting antioxidant fruits like pomegranates. If you've never included this polyphenol powerhouse into your holiday menus before you're in for a real treat! Pomegranates are great for the kiddos to just snack on as well. 
Warming Soups and Stews
There's nothing like a warm bowl of soup on a winter's day. Whether you're enjoying them as an appetizer or a main course, these beautiful soups will leave you feeling warm, peaceful, and oh-so-satisfied. My pumpkin Beauty Soup is a great choice if you tend to get a little bloated when eating a larger holiday meal because pumpkin is potassium-rich and can help rid the body of sodium that contributes to bloating. 
Spectacular Side Dishes
A holiday dinner isn't complete without a variety of wonderful sides like green beans, roasted cauliflower, potatoes, and casseroles. These beautiful dishes deliver all the flavor and comfort of your end-of-year favorites, but without the sluggishness that comes afterward.
Here are some special recipes from my book Beauty Detox Foods: the East-West Baked Vegetables and some basic yams. Both are perfect for any holiday meal, and are sure to be a crowd-pleaser.
More Incredible Sides
Delightful Desserts
No holiday dinner is complete without dessert— I recommend waiting to enjoy dessert until a few hours after the big meal to give your body time to fully digest, otherwise you might experience some sluggish digestion.
Many holiday desserts like chocolate cake, sugar cookies, ice cream, and pumpkin pie are often full of extra butter, sugar, and other ingredients that can just leave you feeling icky after you eat them. Enjoy these festive desserts with zero guilt and zero discomfort.
Beautiful Beverages and Smoothies
Warm drinks like eggnog and hot chocolate are holiday favorites, but they're not very kind to your body. I think you'll love these festive flavors, even without added sugar and dairy.
If you make any of these recipes for your holiday meals, make sure to tag me on Instagram so I can see! If you're on Pinterest, be sure to share it with your friends and family there too. :)
Wishing you a healthy, joyful holiday season and lots of love,