35 Vegan 4th of July Recipes (That You'll Feel Great About Eating!)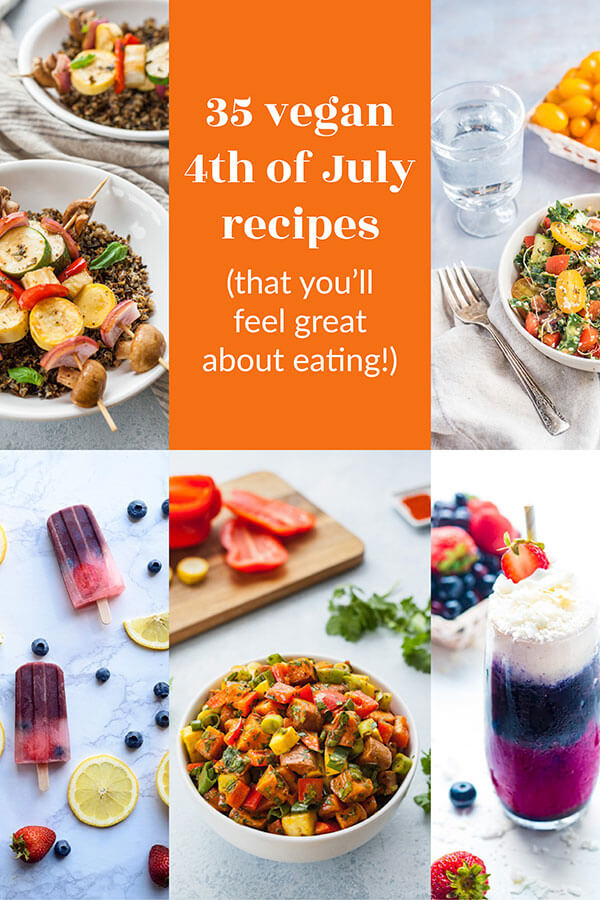 It's almost the 4th of July, Beauties! What better way to enjoy the beautiful weather than to get outside for a barbecue with family and friends?
Gathering around food and celebrating holidays together is great for our sense of community, but it doesn't always leave you feeling great afterward. 
If you're new to plant-based eating, and you're still tempted to indulge in heavy mayonnaise potato salads, hot dogs or greasy potato chips, I have the perfect recipes for you. They're so delicious you won't feel deprived for one minute! 
This way you can still enjoy the fun and sense of community by slipping a few of these delicious vegan 4th of July recipes into the BBQ rotation. You may even create a few plant-based converts; they're that good. 
I've included my favorite outdoor recipes including two different versions of a plant-based vegan burger, a no dairy potato salad, and blackberry vegan ice cream that is so good! The best part is that you can enjoy them without any of the usual discomfort and bloating. 
So if you're looking for delicious, plant-based versions of your 4th of July faves, then these 35 healthy vegan recipes are perfect for your next gathering!
Hearty and Delicious Entrees
From beautiful veggie skewers to a satisfying vegan burger, these recipes will make an amazing main dish at your 4th of July barbecue! Even if you've got a meat lover in the group, I guarantee there is a vegan recipe here that they'll love.
Refreshing and Light Salads
Whether you love a refreshing green salad or a comforting vegan potato salad, you're sure to find a healthy recipe here that you'll love.
Flavorful Sides
These awesome recipes would make an amazing appetizer or companion for your entrees! Unlike standard sides like fried chicken wings or sides loaded with dairy, these delicious recipes have all the flavor and fun of your faves, but without the discomfort, heaviness and bloating afterwards.
Delicious Dips
Whether you're dunking chips or fresh veggies, these delicious, nutrient-packed vegan dips are a crowd-pleaser.
Delectable Desserts
What's a get-together without some dessert? Even on the Beauty Detox Diet, you can still enjoy your favorite 4th of July dessert without feeling sluggish or sugar-crash later! I suggest you wait on dessert a couple of hours after eating your heavier meal though to allow your body time to fully digest your food. Eating fruit on a full stomach as dessert often leads to gas and sluggish digestion.
Cool and Refreshing Beverages
Cool down in the summer heat with these healthy and tasty beverages, made with fresh fruit and no added sugars.
Satisfying Smoothies
Summer's the perfect time for a smoothie— but let's face it, there is no bad time for smoothies! Fresh fruit, healthy fiber and invigorating antioxidants, plus a festive twist make these perfect for those hot summer days.
If you share any of these recipes at your next 4th of July gathering, be sure to tag me on Instagram so I can see! If you're on Pinterest, don't forget to share it with your friends there too! :)
Wishing you love, and a happy and safe 4th of July,